SPOILER WARNING: What follows is more of an informal review (with immediate impressions after an initial viewing, largely recycled from my review on Letterboxd). It contains spoilers for 2019's live-action The Lion King.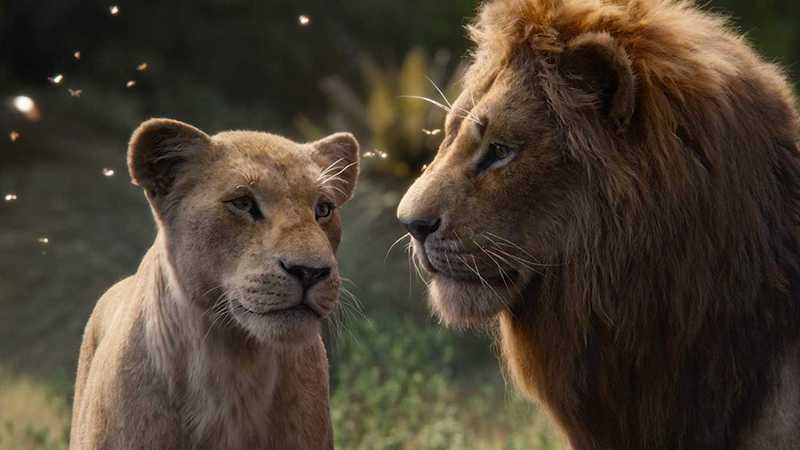 And the Oscar for Best Replicated Screenplay goes to…
We've heard a lot about how shot-for-shot remakes are pointless cash grabs, but I'm not sure I agree. To see an animated nature drama and think, "I wonder what this would look like in real life?" is not unreasonable, and so this film answers a natural curiosity. The act of adapting a shot from one medium of animation to another is itself a type of art, and there's surely a lot to be learned (or observed) about both mediums in the process. So I welcome this remake to the table.
I just wish it brought more to the table with it. 
I've fallen in love with the live-action Beauty and the Beast (review | podcast), Aladdin, and The Jungle Book (review) because of the new ideas they've contributed to centuries-old stories. Does this take on The Lion King have any new ideas? Aside from giving Shenzi's lines to Ed and making Shenzi HBIC, not really. And while I'm all for enriching the legacy of a character originated by Whoopi Goldberg, it's not much to hang one's mane on.
Watching these lifeless, expressionless animals  reminded me of Conan O'Brien's old "Arnold Schwarzenegger by Satellite" bits. Neither the movement of their mouths nor their emotions ever fully rings true.
This is a remake that will live on as a soundtrack. For once, nearly all the singing is great (oy, Seth Rogen). Ditto the voice acting (well, Scar falls a little flat). Billy Eichner is a welcome surprise. Donald Glover can do no wrong. Beyoncé's "Spirit" is an A+ song put to F- use in the film. Who signed off on that? 
I'm glad we got "Be Prepared" (after being told we wouldn't). While the performance is a little clumsy, I find myself *most* interested in this movie whenever it does *something* different. Those moments are rare. 
If anything else in this remake endures, it'll be the clip of Timon singing "Be Our Guest," sure to be a divisive choice but one I loved. It fits the scene so well and pays homage to "It's a Small World"'s feature in the original. I clapped in that moment. Most of the theater did too. But I also saw several people get up and walk out at various points, so YMMV. 
Disney really "put its behind in the past" this time, but my inner fan still had a great time watching this and will surely visit it again. At the end of the day, it's still The Lion King, and that story still "moves us all."  ?
P.S. Did anybody else catch the movie's quick dig at Trump?