Aaron Wallace is a writer, podcaster, and attorney who studies movies, music, television, theatre, theme parks, the 1980s and '90s, and why we love them. He is the author of three bestselling books about Disney, travel, and entertainment, available now at Amazon.com and in bookstores around the world: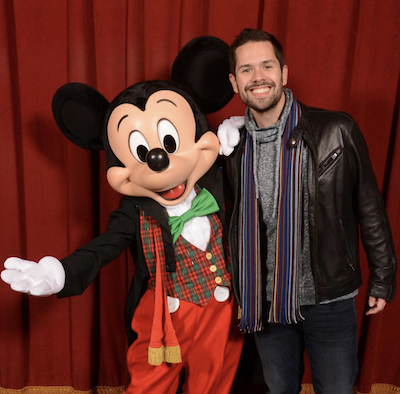 Disney fans know Aaron as the host of On Main Street with Aaron Wallace, the web's longest-running Disney fan podcast. The show is one of the most-downloaded podcasts about Disney and has repeatedly been recognized by Apple as a "Featured Travel Podcast," a fixture on the iTunes Travel Top 10. He also reviews live theatre and entertainment and conducts celebrity interviews as a Contributing Editor at BroadwayWorld.com, the web's #1 source for live entertainment coverage. His more than two hundred movie, music, and television reviews have reached an audience of millions across multiple outlets, including the popular DVDizzy.com.
He has been featured in The Washington Post, the New York Daily News, Buzzfeed, Attractions Magazine, and The Orlando Sentinel, among other publications, and is a frequent guest on podcasts such as The Mad Chatters and Dizney Coast to Coast.
Aaron's passion for Disney dates back to childhood, when he developed an early love for Disney's movies, theme parks, and everything in between. He first started thinking critically about the company's artistic output during his time at The University of North Carolina at Chapel Hill, where he earned a Bachelor of Arts degree in both Communication Studies (concentrating in Film, Television, and Media Studies) and English. While enrolled, he also taught a recitation course in analyzing popular children's literature, becoming one of the first undergraduates in the program to lead a course.
He later pursued an interest in law, earning a Juris Doctorate from Wake Forest University and practicing as an attorney before transitioning full-time to his career as a writer, critic, podcaster, and public speaker.
Today, Aaron lives in Orlando, Florida, where he visits the Walt Disney World Resort on at least a weekly basis and shares his adventures (and myriad thoughts on the entertainment world at large) on Instagram (@aaronhwallace) and Twitter (@aaronwallace). His website is available at www.AaronWallaceOnline.com.