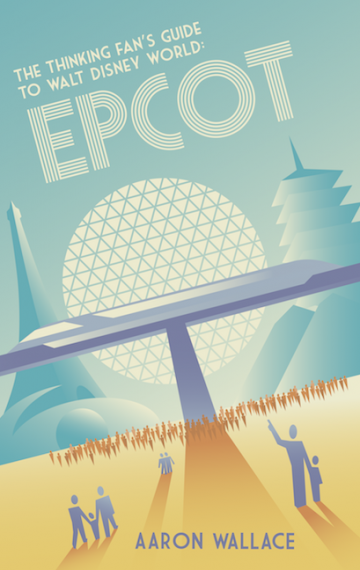 Autographed
$15.95
Publisher:

Pensive Pen Publishing

Edition:

1st

Available in:

Paperback

ISBN:

978-0998059235

Published:

February 5, 2017
Signed Copy
Buy on Amazon
Discounted Bundles
Following his bestselling guide to Magic Kingdom, Aaron Wallace takes readers on an in-depth tour through Walt Disney World's Epcot — the theme park that endeavored to change the world.
Walk through every ride and show as Wallace illuminates its history and asks whether, how, and why the attraction meets the park's mission.
From Future World to World Showcase — from the EPCOT Center of 1982 to the Epcot of the Food & Wine/Frozen era — you'll learn to look at, think of, and talk about this revolutionary place in an all-new way.
Unpack big questions like:
Should a Future World attraction ever take place in the past?
Are Frozen's Anna and Elsa holding World Showcase hostage?
Do Disney characters belong in Epcot?
Why does the park spend so much time in Ellen DeGeneres's head?
Has Epcot lost its way?
Did the park really change the world?
The Thinking Fan's Guide to Walt Disney World: Epcot is the first Epcot book to definitively and comprehensively tackle each of the park's many controversies and challenges.
Wallace puts the park's status quo to the test, mapping out a new vision for an edutainment destination that can boldly go where no other theme park has gone before.
Bundle with Hocus Pocus in Focus
REVIEWS
Aaron Wallace's Epcot book is his second entry in the bestselling Thinking Fan's Guide to Walt Disney World series. The first, dedicated to Walt Disney World's Magic Kingdom, earned rave reviews. Here are just a few:
Intelligent, with a hint of the humorous mixed in for good measure.
—Heidi Strawser, Heidi's Head
Insanely readable.
—Andrew Tipton, Disney Hipsters
It's fun to know someone took a deeper look.
—Rudy Maxa, Emmy winner and the most widely syndicated travel radio host in the world
Few could come to the same brilliant conclusions.
—Alex Reif, LaughingPlace.com
Descriptive, contemplative… so comprehensive… as recommended for erudite armchair travelers as it is for starry-eyed tourists!
—The Midwest Book Review (Editor-in-Chief James Cox)
A must-have for WDW fans!
—Jeff DePaoli, Dizney Coast to Coast
BUY THE PAPERBACK
The Thinking Fan's Guide to Walt Disney World: Epcot is now available online and in select bookstores worldwide, including:
ABOUT THE AUTHOR
Aaron Wallace is a writer, lawyer, podcaster, and author of the bestselling Thinking Fan's Guide book series. Learn more about Aaron.
MEDIA SUPPORT