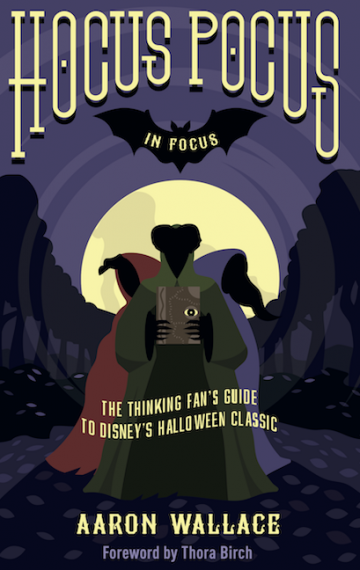 Autographed
$15.95
Publisher:

Pensive Pen Publishing

Editor:

Sally E. Bahner

Edition:

1st

Available in:

Paperback, eBook

ISBN:

978-0-9980592-0-4

Published:

September 13, 2016
Signed Copy
Order on Amazon
Discounted Bundles
THE HOCUS POCUS "BoooOOOoooK" FANS HAVE BEEN WAITING FOR
Hocus Pocus in Focus: The Thinking Fan's Guide to Disney's Halloween Classic
A Hocus Pocus Book for The Thinking Fan
One of New York Daily News' "Six Spooky New Books for Halloween!"
In 1993, Walt Disney Pictures released a movie that would change a generation… but it took a while. Hocus Pocus flopped upon release, and critics everywhere scoffed at this oddball Halloween comedy about three wacky witches back from the dead.
But then something changed. Far from the forgotten relic it was destined to become, Hocus Pocus has taken its place alongside The Wizard of Oz, Harry Potter, and Home Alone — a bona fide classic that's sure to stay alive for generations to come.
Now, in the first and only book ever written about the movie, Aaron Wallace takes readers deep into the world of Hocus Pocus to learn everything they never knew. He provides a lighthearted but scholarly look at the film in its all spooky-kooky glory.
You'll learn:
The fascinating history behind "Come, Little Children (Sarah's Song)" and "I Put a Spell on You"
How Steven Spielberg shaped the movie
Why there's all that talk about yabbos and virgins
How Hocus Pocus got away with being the edgiest Disney movie ever made
Whether a sequel could really happen
Featuring a foreword by Golden Globe nominee Thora Birch (Hocus Pocus's Dani), afterword by Mick Garris (the film's writer and producer), and the largest collection of Hocus Pocus fun facts and trivia ever assembled, this is the ultimate unofficial fan guide for Halloween and movie lovers everywhere.
Finally, Hocus Pocus is celebrated as the classic it's become. You'll love the movie more than you ever knew you could.
REVIEWS
Love Hocus Pocus? Then you need this book. Terrifyingly knowledgeable… accessible and smart, packed with fascinating stories, facts, and analysis.
— Den of Geek
Honestly… my first thought was, 'Awesome! I love that movie – but is there enough material there for an entire book?' As it turns out, there is.
— WickedHorror.com
A scholarly dive into the making and meaning of the film.
— New York Daily News
A treasure trove of insight… nothing short of a magical experience.
— Alex Reif, LaughingPlace.com
Mr. Wallace is able to fill his 206 pages with a wealth of information and trivia… an entirely new perspective.
— NJBiblio Book Reviews
This 'boooOOOoook' is a no-brainer. Wallace beautifully details the making of the movie, including stories about its creation, behind the scenes anecdotes, and themes and theories I never even considered, despite how many times I've seen the film.
— Peter Wright, GoodReads.com
A great gift for any Hocus Pocus fan. Or why not pair it with a copy of the movie for a great Halloween hostess gift?
— WDWHints.com
The chapters are all cleverly titled (my favorite is The Home Alone of Halloween), and with his colloquial tone, fresh perspective and well thought-out ideas, Wallace makes this an interesting and easy read.
— The Movie Guys
A fantastic book. I read it cover to cover. …I'm a pretty diehard fan of the movie, and I learned stuff. Theories… lots of things you'd never think about. I love this book. I cannot rave about it enough. Phenomenal.
— Dizney Coast to Coast
As seen on Tylt.com!
SIGNED COPIES
Order your copy of this new Hocus Pocus book today, and you'll get a copy signed by the author (Aaron Wallace) — available exclusively at AaronWallaceOnline.com!
BUY THE PAPERBACK
Hocus Pocus in Focus: The Thinking Fan's Guide to Disney's Halloween Classic is now available online and in select bookstores worldwide, including:
BUY THE eBOOK
Bring your Hocus Pocus book home in a variety of eBook formats, including:
ABOUT THE AUTHOR
Aaron Wallace is a writer, lawyer, podcaster, and author of the bestselling Thinking Fan's Guide book series. Learn more about Aaron.
MEDIA SUPPORT