SPOILER WARNING: This review contains numerous and significant plot spoilers. It is intended for those who've already seen the film.
I'm nothing if not a sucker for puns, so it is with considerable disappointment that I can't condemn Disney's live-action Jungle Book as a "sheer con."
On the Kaa-ntrary, it Baloo me away.
Five minutes in, the fact that this world was illusion was lost on me. The leaves seemed as real as Mowgli, played impeccably by Neel Sethi, whose performance is as human and heartfelt as any I've seen.
How is it possible that at, age 11, a young boy can command an entire picture while embracing plastic stand-ins in front of a blue screen? Get this kid an Oscar nod.
The Jungle Book understands its story so well. It's about belonging — or, more accurately, not belonging. 2016 sees that subject a little differently than 1967 did.
Ostensibly, Mowgli has to flee the jungle because there's a tiger after him, but Shere Khan is merely a convenient scapegoat for a community that knows the mancub can't stay — tiger target or not.
Maybe his name (an almost-literal translation of "Tiger King") was double entendre all along.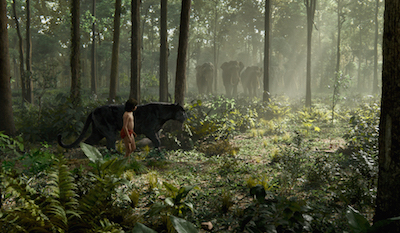 Bagheera is like Semisonic's barkeep. "You don't have to go home, Mowgli, but you can't stay here." Where else would he go, though?
So it's off to see the wizard, where man's "red flower" will be his bucket of water, and Mowgli's human capacity for invention ("tricks," the animals say) is the pair of slippers he could've clicked the whole time.
But in this version of the story, Mowgli stays in his Oz at the end. That's not how Walt saw things. At first, that bothered me. After getting everything almost entirely right — eighty minutes of nearly perfect film — how could the story that understood itself go so terribly awry?
The feral child coming to terms with his humanity — and ultimately accepting it — is crucial to The Jungle Book. It is the crossroads that makes this the enduring fable that it is. Mowgli's return home has always been his resolution, and now Favreau's version didn't have it. (And simply for the sake of a sequel, I feared).
I know we're all very "Glee" about these things today, but the notion that Mowgli can just stay in the jungle because that's the family he identifies with seems like a dumbing down of the central crisis in this story, one that would rob it of an essential truth: Mowgli is not a wolf, and he can't even be part of the pack.
Upon further reflection, though, I think the movie reaches this essential reckoning after all. "You can't fight him like a wolf," Bagheera says. "Fight him like a man." And with that — a vote of confidence that his father figure had never quite cast — Mowgli runs toward the raging flower and opens a whole can of mancub on Khan.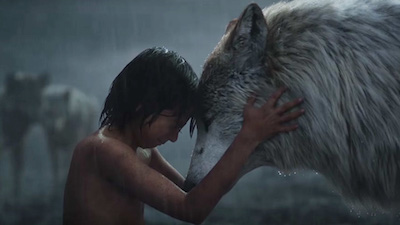 It is in that moment that Mowgli "goes home," even as his pack redefines itself as something more inclusive. And in this sense, the movie reflects the 2016 I think we all want for our world — one in which differences aren't divisive but also aren't denied. It's the same realization as '67, but reached in a newly relevant and thoughtfully different way.
Favreau's got tricks too, you see.
So does his team. The CGI in this film is a game changer. Avatar has been reduced to a precursor.
Meanwhile, John Debney — long underrated for his exceptional scoring — delivers some of his best work here, tastefully recalling just enough of the original film's score, and at all the right times.
Two songs make their way in, and that's been a thorn in the side of some viewers (mostly the ones who don't like musicals anyway). "The Bear Necessities" is implemented masterfully. The scene saunters into it at a honey-drip pace, and by the time the two characters are singing, we're practically crying. This is the strongest moment in the film, and I recoil at the suggestion that the makers might have excised it.
Christopher Walken's "I Wan'na Be Like You" is less successful but only slightly so. On the one hand, the movie has already established song as a part of this universe. On the other, King Louie's "oobie-doos" do arrive a bit abruptly. Simply scaling back the instrumentation for some almost-a cappella would have worked wonders.
But here's the thing: everybody on God's green earth knows that King Louie sings this song. Don't tell me you were surprised. You weren't. (And if you were, I don't wan'na be like you.)
For the insistent cynics, let me suggest that King Louie does not, in fact, "break out into song" without explanation. The melody is narratively credible, and here's why: Louie's apes were spying on Baloo's den. They likely overheard his music lesson and reported back to Louie. Salesman that he is, His Royal Gigantopithecusness attempted to connect with Mowgli in a way he thought might be effective, based on the intel he'd received. It didn't work out for him, but at least he did bring down the house.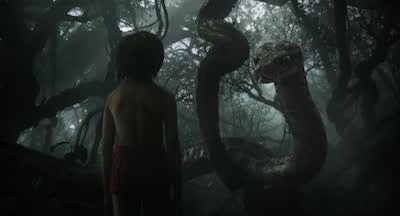 It's just a shame that Scarlett Johansson's "Trust in Me" didn't make the movie-proper. It would have fit her scene like snakeskin. Alas, it's relegated to the credits, where we can imagine it as the next Bond song instead.
The Jungle Book surpasses my wildest expectations. It is deep, moving, and mature. It's filled with honest heart. It weaves narrative episodes into a single, exceptionally gripping arc. Walt would be proud.
If this sets the bar for the next wave of Disney live-action remakes, we're in for a great few years.