Aaron Wallace is a writer, podcaster, and the bestselling author of three books on travel and entertainment, available now at Amazon.com and in bookstores around the world: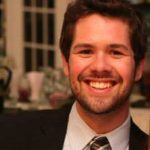 Aaron also hosts Zip-A-Dee-Doo-Pod, the web's longest-running Disney fan podcast. The show is one of the most popular podcasts about Disney and has repeatedly been recognized by Apple as a "Featured Travel Podcast." Zip- A-Dee-Doo-Pod can often be found among the top-ranking downloads on the iTunes Travel Podcasts charts. Additionally, he reviews theatre and live entertainment and conducts celebrity interviews for BroadwayWorld.com, the web's #1 source for musical entertainment coverage.
Aaron's passion for Disney dates back to childhood, when he developed an early love for Disney's movies, theme parks, and everything in between. He first started thinking critically about the company's artistic output during his time at The University of North Carolina at Chapel Hill, where he earned a Bachelor of Arts degree in both Communication Studies (concentrating in Film, Television, and Media Studies) and English. While enrolled, he also taught a recitation course in analyzing popular children's literature, becoming one of the first undergraduates in the program to lead a course.
Today, Aaron is a writer and an attorney, having earned a Juris Doctor degree from Wake Forest University. He is also a professional film and media critic, having published more than two hundred movie, television, and music reviews to a readership of more than three million. Since 2004, he's been a part of the writing staff at DVDizzy.com, one of the Internet's most-accessed sites for entertainment journalism.
In addition to Disney, Aaron's other areas of critical interest include American film, television, popular music, theatre, travel, lifestyle, and leisure. His work in these areas has led to appearances on a wide range of podcast and radio broadcasts, as well as several television programs.
Aaron lives in Orlando, Florida, where he visits the Walt Disney World Resort on at least a weekly basis and tweets his adventures (and myriad thoughts on the entertainment world at large) on Instagram and on his Twitter page, @aaronwallace.