The holidays are here, and no place celebrates like the Disney Parks. Join Aaron for a countdown of the Top Ten Christmas Offerings at Walt Disney World. Then, special guest Jeff DePaoli chimes in with a rundown of the best holiday entertainment and attraction overlays at Disneyland.
Total runtime – 2 hours, 41 minutes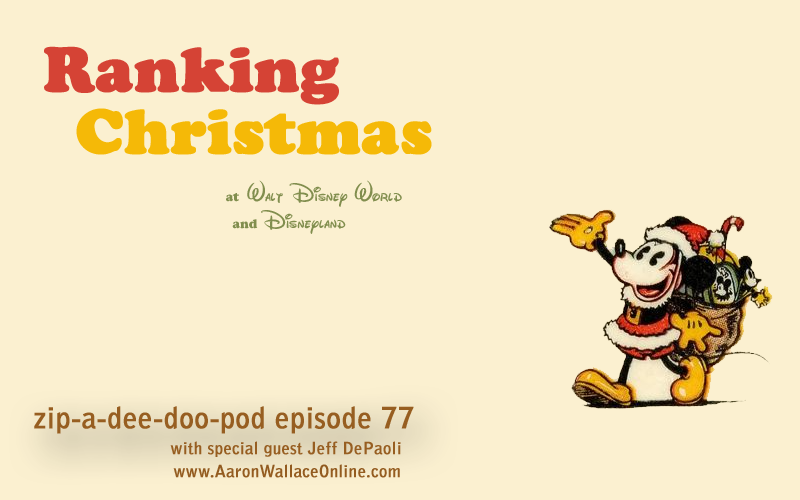 Thanks for listening! Be sure to leave a quick review on iTunes!
AS HEARD IN THE SHOW
• Aaron's new book, Hocus Pocus in Focus: The Thinking Fan's Guide to Disney's Halloween Classic, is now available as an eBook!
• Dizney Coast to Coast, hosted by Jeff DePaoli and Patrick Dougall
• Daily Disney Decision, hosted by Jeff DePaoli
• Unlocking the Magic podcast – Episode 95
• The Mad Chatters podcast – Episode 112
• Order signed (and discounted) bundles of Aaron's three books
• The closing song in this episode is "Let the Season Take Wing" by Amy Grant
Stay up to date with the show's brand-new newsletter. Sign up at www.aaronwallaceonline.com
SUPPORT THE SHOW

Please leave a written review for Zip-A-Dee-Doo-Pod on iTunes!
Have you read one of Aaron's books? Please leave a review on Amazon!
Please "like" the show's Facebook page! www.facebook.com/zipadeedoopod
While you're there, "like" The Thinking Fan's Guide on Facebook too! www.facebook.com/thinkingdisney
CONTACT THE SHOW

Send comments, questions, and feedback to podcast@aaronwallaceonline.com — or you can record yourself on an audio file and email that in too! 
Follow Aaron and the show on Twitter! http://www.twitter.com/aaronspod
ADDITIONAL INFORMATION
Zip-A-Dee-Doo-Pod is an official member of The Disney Podcast Network. http://www.thedpn.com
Music copyright The Walt Disney Company; Disney Music Group, etc. Original content copyright Aaron Wallace. Zip-A-Dee-Doo-Pod is an unofficial fan podcast and is not authorized by, reviewed by, or affiliated with The Walt Disney Company, its affiliates, or subsidiaries. For more information, visit www.aaronwallaceonline.com.