With only a few Mickey's Not So Scary Halloween Party dates left, I'm sharing my oh-so-timely thoughts on the best approach for first-timers and repeat guests alike.
I've done MNSSHP exactly twice this year, using an approach that seems to work well, though your mileage may vary.
The party officially begins at 7, but they'll almost certainly let you in at 4 (even if your only ticket is for the party). That gives you a few hours to hit the attractions and grab a Pumpkin Spice Latte at Starbucks. It's delicious, and I promise if you're at this party, you're not too cool to drink one.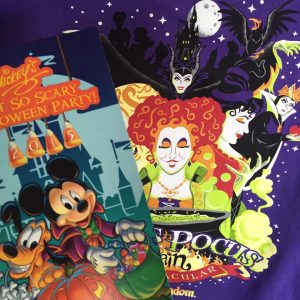 I like to be in Town Square at exactly 7 p.m., when the lights switch over and the welcome announcement resounds. It's instant hype. But after that, you have a while before you need to take your places. Take the next 50 minutes to trick-or-treat, admire guest costumes, and squeeze in a ride or two.
Note: With your MNSSHP ticket, you're able to book FastPass+ for your entire time in the park, though if you waited until October to start planning those, you're already too late for the good stuff. Thanks, MyMagic+! You might still be able to score Pirates of the Caribbean and The Haunted Mansion, both of which are obviously Halloween-y and can build long standby lines during the party. The Haunted Mansion is a must-do during the event (or at least a must-walk-by… the exterior lighting effects are to die for, and the uber-rare Mmes. Renata/Carlotta interact with guests from the manor's lawn).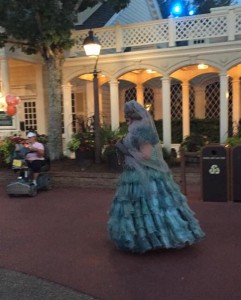 Around 7:55 pm, get a front-row spot on the parade route in Liberty Square. It's an ideal but overlooked location and really the key to this whole plan. I like to stand right in front of Liberty Square Market (next to Hall of Presidents). From there, you can see the left side of the parade before it turns at the bend, and then the right side when it passes by you. As an added bonus, you'll see the Headless Horseman ride through his "home land" and right past Sleepy Hollow Inn.
Mickey's Boo-to-You Parade begins in Frontierland at 8:35 pm and will make it to Liberty Square shortly thereafter. It's one of the best parades in the Disney pantheon so you're in for a real… I'll stop that pun before it starts.
And now the most important part of the plan: follow the parade to the castle hub.
Here's the thing, though: they might not let you. Actually, it's even better if they don't. You see, the cast members sometimes direct all of the post-parade traffic to Adventureland, keeping the bridge between Liberty Square and Main Street closed. If that happens, just hang back. Find a non-obstructive place on the sidelines (around the Christmas shop or the Liberty Square Market) and wait while the masses move out of your way and into Adventureland. Within a few minutes, they'll drop the rope and allow those remaining to move into the Hub.
Note: If several minutes have passed and the parade has clearly left the hub, but for some reason they still haven't dropped the rope at the bridge, then something has gone awry (read: no one told the PAC cast what to do). In this unlikely scenario, just make your way to the hub using the best route available. 

Once you're in the hub, move directly toward the castle and get as front-and-center as you can. It's going to be a little crowded and people can get a little pushy, so just take a deep breath. The view is worth it.
From here, you are going watch Hocus Pocus Villain Spelltacular, Celebrate the Magic (Halloween edition), and Happy HalloWishes, back-to-back-to-back. The beauty of this plan is you can sweep in from the parade and nab an excellent viewing spot for all three of these shows without having to wait a long time. The downside is, once you arrive, you'll be standing there for a while. If the cast members and the crowds are chill, you can sit on the pavement in between the shows.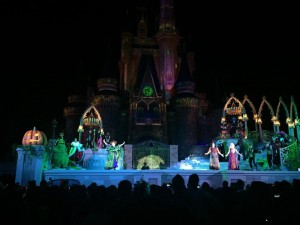 The seasonal programming is the highlight of the Halloween Party, with the new Hocus Pocus show emerging as one of the best things Disney's done in years. The movie has been stealthily popular for at least a decade, frequently ranking among the top-selling home video titles each fall and scoring strong ratings on TV, but Disney seems to have only become aware of that fact this year. Better late than never. Let's hope there's a lot more Hocus Pocus acclaim in the years ahead.
The other seasonal Magic Kingdom highlight is the Pumpkin Spice Waffle Sundae at Sleepy Hollow Inn. (Rivaling it is the new Pumpkin Pie Milkshake at Disney's Hollywood Studios.) It's much better than any of the official party-exclusive desserts, which aren't all they're cracked up to be. This year, you're basically looking at a few standard-issue cupcakes and "Candy Corn Ice Cream," which is literally vanilla ice cream with food coloring and a few ice-cold/rock-hard/tooth-snapping candy corns shoved into the bottom of the cone.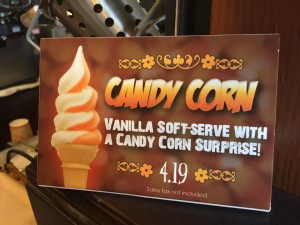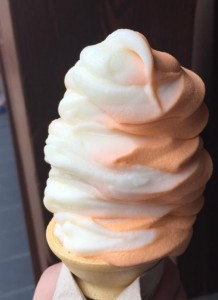 You'll notice I didn't allot much time for meet-and-greets. It's not my thing. If it's yours, you might need to trade some ride time or trick-or-treating for a photo opp. I think it's more fun to gaze upon all the guest-created costumes instead, many of which are truly wowing. Your neighborhood never got this clever.
I hope you all enjoy the last few nights of Mickey's Not So Scary Halloween Party, by far Disney's best hard-ticketed event. Now, if only they would offer the equivalent of Universal's Halloween Horror Nights Frequent Fear Pass, we could all sing with the Sandersons over and over again.
UPDATE: If you love Hocus Pocus, be sure to check out my brand-new book all about the movie — complete with a foreword by star Thora Birch (Dani) and afterword by writer/producer/co-creator Mick Garris. It even includes a whole chapter on Magic Kingdom's Villain Spelltacular!