Take a walk in Walt's footsteps through Griffith Park in Los Angeles — PLUS a special announcement for The D23 Expo 2015!
Total runtime – 1 hour, 2 minutes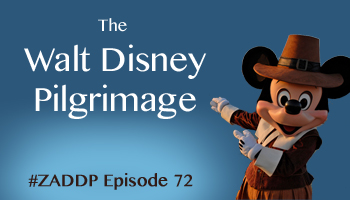 Thanks for listening! Be sure to leave a quick review on iTunes!
As heard in the show
• The BRAND-NEW 2nd Edition of Aaron's book, The Thinking Fan's Guide to Walt Disney World: Magic Kingdom, is now available for preorder at Amazon! Releases to bookstores on Labor Day 2015!
• The E-Ticket Life: Stories, Essays, and Lessons Learned from My Decidedly Disney Travels by Kyle Burbank
• Find Aaron and Kyle at the D23 Expo 2015 (LaughingPlace.com Booth, #c2004 in the Emporium at the Main Expo Hall) for exclusive early access to the new 2nd Edition!
• The Disneyland Gazette's original "Walt's Pilgrimage" podcast
• Follow along with this episode's photo report at the ZADDP Facebook page
• Follow @DLThings on Twitter! (The aforementioned Periscope broadcast has since expired!)
• "Don't Try So Hard" by Amy Grant and James Taylor
• "If These Walls Could Speak" by Amy Grant
Find more about the show at the official website: https://www.aaronwallaceonline.com
Be sure to listen to Aaron on another fun, unofficial Disney show, The Hub Podcast: http://thehubpodcast.com
Send comments, questions, and feedback to podcast@aaronwallaceonline.com — or you can record yourself on an audio file and email that in too! 
Follow Aaron and the show on Twitter! http://www.twitter.com/aaronspod
Please "like" the show's Facebook page! http://www.facebook.com/zipadeedoopod
Zip-A-Dee-Doo-Pod is an official member of The Disney Podcast Network. http://www.thedpn.com
Music copyright The Walt Disney Company; Disney Music Group, etc. Original content copyright Aaron Wallace. Zip-A-Dee-Doo-Pod is an unofficial fan podcast and is not authorized by, reviewed by, or affiliated with The Walt Disney Company, its affiliates, or subsidiaries. For more information, visit www.aaronwallaceonline.com.