Pirates of the Caribbean is changing, and it's quite the controversy. As the famous Wench Bride Auction is set to be replaced, Aaron looks at whether the original scene is actually offensive, whether it's appropriate for Disney to change it, and what the Imagineers' duties must be when tinkering with the sacred…
PLUS: A special announcement regarding the D23 Expo 2017 and The Thinking Fan's Guide to Walt Disney World!
Total runtime – 42 minutes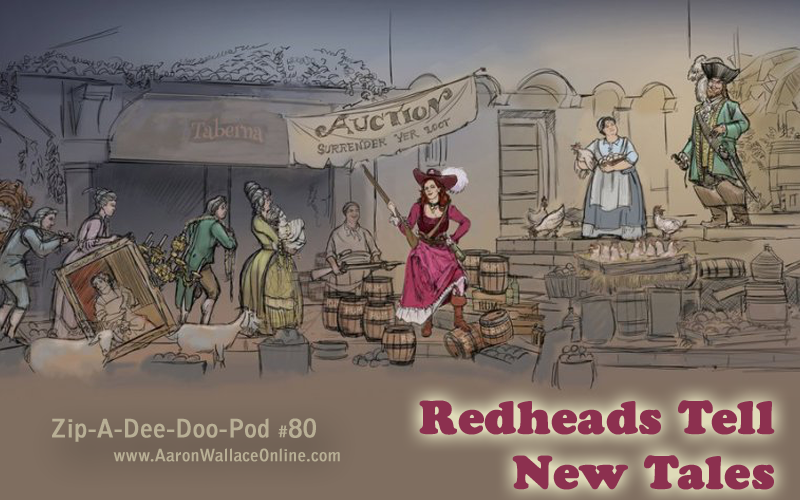 Thanks for listening! Spread the word!
Stay up to date with the show's brand-new newsletter. Sign up at www.aaronwallaceonline.com
AS HEARD IN THE SHOW
• Aaron's newest book, The Thinking Fan's Guide to Walt Disney World: Epcot, is now available! Get it on Amazon or order a signed copy (or book bundle) here!
• Announcement and concept art for the new scene coming to the U.S. Pirates of the Caribbean rides
• Part 1 of the live-action Beauty and the Beast discussion with Albert Gutierrez
• LaughingPlace.com (booth sponsor for the D23 Expo 2017)
• Last chance to get The Thinking Fan's Guide to Walt Disney World: Magic Kingdom – 2nd Edition (includes 50% coupon for 3rd Edition, coming later this year!)
• The E-Ticket Life: Stories, Essays, and Lessons Learned from My Decidedly Disney Travels by Kyle Burbank
• Aaron's D23 Expo 2017 book signing schedule
SUPPORT THE SHOW
Please leave a written review for Zip-A-Dee-Doo-Pod on iTunes!
Have you read one of Aaron's books? Leave a review on Amazon!
Be sure to "like" Zip-A-Dee-Doo-Pod on Facebook!
While you're there, "like" The Thinking Fan's Guide on Facebook too!
CONTACT THE SHOW

Send comments, questions, and feedback to podcast@aaronwallaceonline.com — or you can record an audio file and email it in!
Follow Aaron and the show on Twitter!
ADDITIONAL INFORMATION
Zip-A-Dee-Doo-Pod is an official member of The Disney Podcast Network. http://www.thedpn.com
Music copyright The Walt Disney Company; Disney Music Group, etc., unless otherwise noted. Original content copyright Aaron Wallace. Zip-A-Dee-Doo-Pod is an unofficial fan podcast and is not authorized by, reviewed by, or affiliated with The Walt Disney Company, its affiliates, or subsidiaries. For more information, visit www.aaronwallaceonline.com.