On the heels of Disneyland's 60th Anniversary Diamond Celebration, Aaron looks back at his three trips there to celebrate it.
Follow along for a first-timer's look at:
Paint the Night
Disneyland Forever
Club 33
Disney characters in It's a Small World
Soundsational
Haunted Mansion Holiday
The Hatbox Ghost
Updates to Alice in Wonderland, Peter Pan's Flight, Storybookland Canal Boats, and the Matterhorn Bobsleds
Fantasy Faire (and Frozen in the Royal Theatre)
Sleeping Beauty Castle Walkthrough
Big Thunder Ranch
The Halloween Tree
Great Moments with Mr. Lincoln
Space Mountain Ghost Galaxy
And so much more…
PLUS: Aaron announces his two brand-new books, HOCUS POCUS in Focus: The Thinking Fan's Guide to Disney's Halloween Classic and The Thinking Fan's Guide to Walt Disney World: Epcot.
Total runtime – 1 hour, 32 minutes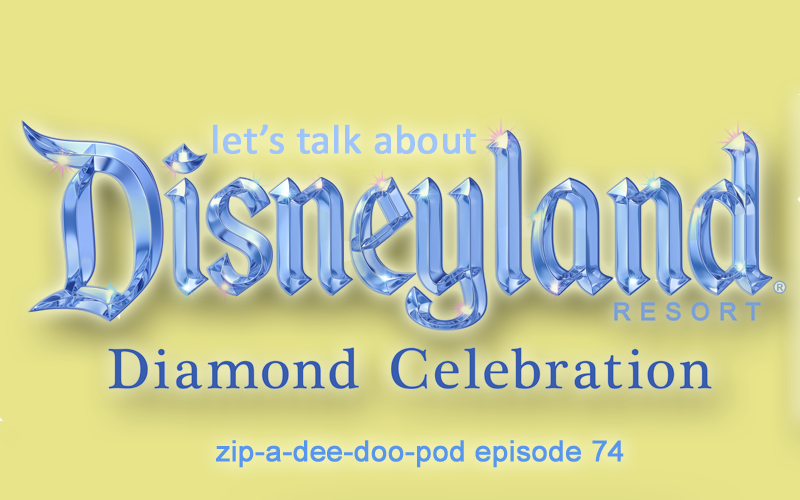 Thanks for listening! Be sure to leave a quick review on iTunes!
AS HEARD IN THE SHOW
• Order signed (and discounted) bundles of Aaron's three books
• Get Hocus Pocus in Focus on Amazon
• Arielle Nadel's photography (Danboard, BB-8, Mia Rabbit, and more)
• Arielle Nadel's Instagram (Disney fan photography and more)
• Dizney Coast to Coast with Jeff DePaoli and Patrick Dougall
• Jeff DePaoli on Periscope (home to the Daily Disney Decision)
Find more about the show at the brand-new official website: https://www.aaronwallaceonline.com
SUPPORT THE SHOW

Please leave a 5-star written review for Zip-A-Dee-Doo-Pod on iTunes!
Have you read one of Aaron's books? Please leave a review on Amazon!
Please "like" the show's Facebook page! www.facebook.com/zipadeedoopod
While you're there, "like" The Thinking Fan's Guide on Facebook too! www.facebook.com/thinkingdisney
CONTACT THE SHOW

Send comments, questions, and feedback to podcast@aaronwallaceonline.com — or you can record yourself on an audio file and email that in too! 
Follow Aaron and the show on Twitter! http://www.twitter.com/aaronspod
ADDITIONAL INFORMATION
Zip-A-Dee-Doo-Pod is an official member of The Disney Podcast Network. http://www.thedpn.com
Music copyright The Walt Disney Company; Disney Music Group, etc. Original content copyright Aaron Wallace. Zip-A-Dee-Doo-Pod is an unofficial fan podcast and is not authorized by, reviewed by, or affiliated with The Walt Disney Company, its affiliates, or subsidiaries. For more information, visit www.aaronwallaceonline.com.