What's it like to live in Walt Disney World? How does moving to Orlando change your theme park perspective as a diehard Disney fan? Is the tradeoff worth it? Fresh off of his two-year "Orlandoversary," Aaron looks at 15 ways that Florida residence has changed his WDW experience.
Total runtime – 49 minutes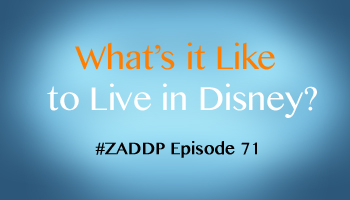 Thanks for listening! Be sure to leave a quick review on iTunes!
As heard in the show
• Aaron's book, The Thinking Fan's Guide to Walt Disney World: Magic Kingdom, is now available on paperback and as an eBook!
• Saving Mr. Banks movie review
• "Who's Your Inner Muppet?" — Aaron's Sam the Eagle guest entry at This Happy Place Blog
• It's A Small World: 50th Anniversary #smallworld50 reflections
• The Three CommentEars – Unofficial Mary Poppins Audio Commentary with Special Guest Aaron Wallace
• The Something Clever Show by Kyle Burbank and Emily Nadolski (featuring a brilliant Carousel of Progress 2013 reenactment)
• The 26 Best Christmas Albums of All Time
• Aaron's 2014 Oscar Picks & Predictions
Find more about the show at the official website: https://www.aaronwallaceonline.com
Be sure to listen to Aaron on another fun, unofficial Disney show, The Hub Podcast: http://thehubpodcast.com (Episode #66 includes a Muppets Most Wanted movie review + much more!)
Check out The Disneyland Gazette too!
Send comments, questions, and feedback to podcast@aaronwallaceonline.com — or you can record yourself on an audio file and email that in too! A new mailbag show is coming soon!
Follow Aaron and the show on Twitter! http://www.twitter.com/aaronspod
Please "like" the show's Facebook page! http://www.facebook.com/zipadeedoopod
Follow Aaron on Instagram too! (New!) http://www.instagram.com/awallnotawol
Zip-A-Dee-Doo-Pod is an official member of The Disney Podcast Network. http://www.thedpn.com
Music copyright The Walt Disney Company; Disney Music Group. All other original content copyright Aaron Wallace. Zip-A-Dee-Doo-Pod is an unofficial fan podcast and is not authorized by, reviewed by, or affiliated with The Walt Disney Company, its affiliates, or subsidiaries. For more information, visit www.aaronwallaceonline.com.