Aaron welcomes special guest Kyle Burbank (of The Disneyland Gazette), discussing recent Disney Parks news and a TWO recent trip reports, including:
WDW & Disneyland ticket price hikes for 2013
Mickey and the Magical Map's debut at Disneyland
Monstrous Summer All-Nighter in the Magic Kingdom: A Report
Candlelight Processional with Amy Grant at Epcot
New Year's at Walt Disney World
…and much, much more!
• As heard in the show: Aaron's book, The Thinking Fan's Guide to Walt Disney World: Magic Kingdom, is now available on paperback and as an eBook!
Total runtime – 1 hour, 4 minutes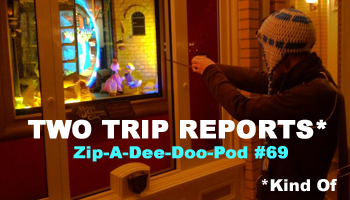 Thanks for listening! Be sure to leave a quick review on iTunes!
Find more about the show at the official website: https://www.aaronwallaceonline.com
Be sure to listen to Aaron on another fun, unofficial Disney show, "The Hub Podcast": http://thehubpodcast.com
Find Kyle Burbank (and sometimes Aaron too) on The Disneyland Gazette!
Check out Amy Grant's first all-new studio album in 10 years, How Mercy Looks From Here
Also be sure to listen to the Of Mice and Men Podcast
Send comments, questions, and feedback to podcast@aaronwallaceonline.com — or you can record yourself on an audio file and email that in too! A new mailbag show is coming soon!
Follow Aaron and the show on Twitter! http://www.twitter.com/aaronspod
Please "like" the show's Facebook page! http://www.facebook.com/zipadeedoopod
Zip-A-Dee-Doo-Pod is an official member of The Disney Podcast Network. http://www.thedpn.com