Zip-A-Dee-Doo-Pod continues with the Inaugural Induction Ceremony for its its brand-new Disney Music Hall of Fame! Here's Part 2!
Picking up where the last episode left off, four NEW songs are inducted in Part 2: one from the 1970s, one from the 1980s, one from the 1990s, and  one from 2000-Present. (Songs from the pre-60s, 50s, and pre-'50s were inducted in Part 1).
Each new inductee is treated to a detailed history and an in-depth, revelatory analysis.
PLUS: Get new updates on Aaron's book, The Thinking Fan's Guide to Walt Disney World: Magic Kingdom, which is now available on paperback and as an eBook!
• As heard in the show [WARNING: SPOILER!] – Music video by The Jets
• As heard in the show [WARNING: SPOILER!] – A "Harmonic Analysis" of the 1980s selection
• As heard in the show – "That's What Love is For" 
Total runtime – 47 minutes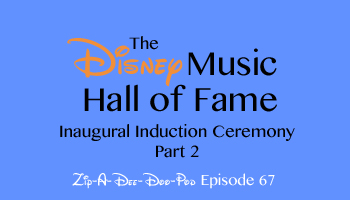 Thanks for listening! Be sure to leave a quick review on iTunes!
Find more about the show at the official website: https://www.aaronwallaceonline.com
Be sure to listen to Aaron on another fun, unofficial Disney show, "The Hub Podcast": http://thehubpodcast.com
Aaron joins The Disneyland Gazette for a countdown of 51 Disney Animated Classics almost every week, continuing into 2013!
Send comments, questions, and feedback to podcast@aaronwallaceonline.com — or call the show's phone line and leave a voicemail! (224) 366-7631 … that's (224) 366-DOO-POD1 — You can record yourself on an audio file and email that in too! A new mailbag show is on the horizon!
Follow Aaron and the show on Twitter! http://www.twitter.com/aaronspod
Please "like" the show's Facebook page! http://www.facebook.com/zipadeedoopod
Zip-A-Dee-Doo-Pod is an official member of The Disney Podcast Network. http://www.thedpn.com