Part One of a three-or-four-part trip report from Aaron's month-long vacation celebration in August 2010, featuring:
• A Great Great Movie Ride (featuring in-park audio)
• Summer Nightastic version of Tower of Terror
• First time at Via Napoli (featuring in-park audio)
• First time seeing Captain EO (featuring in-park audio)
• Hanson concert
• Much more!
Total runtime – 55 minutes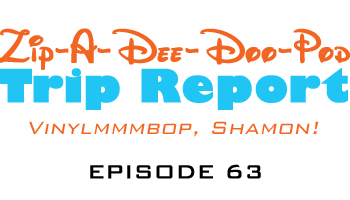 Thanks for listening! Be sure to leave a quick review on iTunes!
Find more about the show at the official website: https://www.aaronwallaceonline.com
Please consider donating a toy, or making a monetary donation, to the Gift of Hope Children's Toy Drive!
Don't forget to enter the  ZADDP Merry Muppets Christmas Collection Giveaway!
Read Aaron's article about Delta Rae!
Be sure to listen to Aaron on another fun, unofficial Disney podcast, "The Hub": http://thehubpodcast.com
Listen for Aaron's mini-countdown in The Disneyland Gazette's 100th episode!
Send comments, questions, and feedback to podcast@aaronwallaceonline.com — or call the show's phone line and leave a voicemail! (224) 366-7631 … that's (224) 366-DOO-POD1 — You can record yourself on an audio file and email that in too!
Follow Aaron and the show on Twitter! http://www.twitter.com/aaronspod
Please "like" the show's Facebook page! http://www.facebook.com/zipadeedoopod
Support the show by making a PayPal donation at https://www.aaronwallaceonline.com
"The Christmas Queen" by Miss Piggy can be heard on The Muppets' A Green and Red Christmas album!
Zip-A-Dee-Doo-Pod is an official member of The Disney Podcast Network. Post at the show forum! http://www.thedpn.com