The ZADDP mailbag is overflowing with fascinating questions about all things Disney! Aaron answers them all, and ends up completely redesigning California Adventure along the way (Imagineering, you're welcome).
Some topics of discussion include:
• Hollywood Studios gets over the Love Bug
• Does Carsland put DCA on the right track?
• Disney says "Avada Kedavra" to Winnie the Pooh
• All the idols burn and the fires plume in the Tiki, Tiki, Tiki, Tiki, Tiki Room
• ZADDP'S Top 100 Disney Songs: How dare you leave out [my favorite song]!?!?
• Ummm… Pete's Dragon?
• Give a Day, Get a Disney Day — what's so bad about doing good?
• How to Make a Podcast: ZADDP's (Not So Secret) Secrets Revealed!
• Some Soaking Awesome Feedback
• Potentially promising news about the future of Song of the South
• A tribute to Wally Boag and Betty Taylor
• Much, much more!
Total runtime – 1 Hour, 54 minutes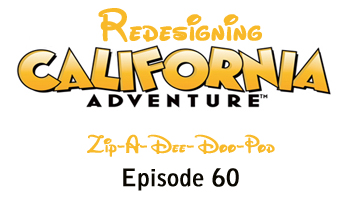 Thanks for listening! Be sure to leave a quick review on iTunes!
Find more about the show at the official website, which has a brand-new design!: https://www.aaronwallaceonline.com
• Thanks to Patrick Westmoreland for designing the new ZADDP logo! Find him here: http://www.patrickwestmoreland.com
• Be sure to listen to Aaron on another new unofficial Disney podcast, "The Hub": http://thehubpodcast.com
• You can also hear Aaron on Issues #65 -75 of "The Disneyland Gazette": http://disneylandgazette.com
• Mikey from Magic City Mayhem has a hilarious theory about the Tiki Room arson…err…fire: http://on.fb.me/kyEYgN … And check out his podcast here!: http://site.magiccitymayhem.com/
• Steven Head and The Post-Movie Podcast present some promising news on 'Song of the South':http://www.post-movie.net/?p=1840
• The "Facebook Song" on YouTube: http://www.youtube.com/watch?v=rSnXE2791yg
• Read about UltimateDisney.com's Google ordeal here: http://www.dvdizzy.com/googlehell.html
• Aaron's 'Pirates of the Caribbean: On Stranger Tides' Movie Review: https://www.aaronwallaceonline.com/?p=742
Send comments, questions, and feedback to podcast@aaronwallaceonline.com — or call the show's phone line and leave a voicemail! NEW PHONE NUMBER: (224) 366-7631 …. that's (224) 366-DOO-POD1 — You can record yourself on an audio file and email that in too!
Follow Aaron and the show on Twitter! http://www.twitter.com/aaronspod
Support the show by making a PayPal donation at https://www.aaronwallaceonline.com
Zip-A-Dee-Doo-Pod is an official member of The Disney Podcast Network. Post at the show forum! http://www.thedpn.com