By Aaron Wallace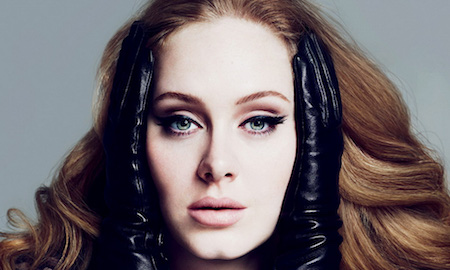 Five years into the new decade, it's safe to say we've left the Aughts' amelodic missteps behind. An ever-evolving industrial landscape presents new opportunities and new challenges for the music fan. Great songs are in no short supply, but they don't always pop up in our Facebook feeds. Fortunately, there's a wonderful community out there that is ever on the hunt for the next "you have to hear this."
It's in that spirit that I end each year with a look back at "the soundtrack of the last twelve months." After sorting through thousands of songs, I choose hundreds to give close study, and then flog myself into finding just 30 to highlight here. It's a long, painful process, but also a sincere delight.
My list likely includes songs you love, songs you haven't heard yet, and maybe even a few you cannot believe I'd laud. The experience of music is simultaneously personal and universal, and I'd like to think that's what makes these lists so fun. At the end of the day, I hope you'll find something to appreciate in my labor's fruit. I love music, and I'm just here to share the things that get my heart pumping with all of you. Maybe yours will pump for one or two of these too. That would be my best reward.
NEW THIS YEAR: Listen to The Top 30 Songs of 2015 as an Apple Music playlist (Nos. 14, 10, and 2 are omitted).
---
30. The 1975 – "Love Me"
"Love Me" opens like an audition for the new Ghostbusters soundtrack, only it's fame that's haunting The 1975. "I'm just with my friends," frontman Matthew Healey sings in the video, standing alongside cardboard cutouts of A-listers ranging from Elvis to Harry Styles. Lamenting the superficiality of fame, Healey cites Kim Kardashian's "Car-crashian panache," quipping, "She got a beautiful face but got nothing to say. Oh." Then he licks his friends. It doesn't matter — none of it's real, and that's the point. "Love me, if that's what you wanna do." Shrug. Brilliant.
29. Darlene Love – "Night Closing In"
Everything old is new again. Take Darlene Love. She's as old as AM, yet she has a splashy new LP called Introducing Darlene Love. It's a play on her long career as a backup/session singer, with only occasional turns in a spotlight all her own. "Night Closing In" shows what a shame that's been. In her mid-70s, her voice is staunch as ever, and she delivers a charmingly modern take on the well-worn Wall of Sound that she helped to make famous half a century ago. Now it's helping to make her famous… again.
28. James Bay – "Hold Back the River"
His album's called The Chaos and the Calm, and sure enough, its lead single proceeds with 5-speed transmission, seamlessly moving from moments of quiet reflection to huge-harmonied folk rock. Rivers remain compelling metaphors for tears, just as England remains the source of some of our loveliest young rock voices.
27. Pharrell Williams – "Freedom" 
Much more than a feel-good follow-up to "Happy," Pharrell's "Freedom" is an artful illustration of the power in that word. As deep as it is danceable, the song reminds us that freedom is never afforded a plateau. "Cheetahs need to eat. Run, antelope."
Ultimately, Pharrell finds a safeguard for his freedom in God, or "the electric one," as he puts it. "Does it shock you to see," Williams asks, that "He left us the sun?" Or is it Son? A clever turn of phrase.
26. Panic! at the Disco – "Hallelujah" 
Among the most depressing trends in modern life, celebrities assigning pet names to their fans might be the worst. Brendon Urie calls his "sinners." Ew. Fortunately, his call to sinners in this song seems to employ the more universal sense of the term — sin generally, not the specific sin of spending time on a Panic! message board.  Momentarily casting aside his band's penchant for hedonism, Urie prays for forgiveness and receives it with trumpeting fanfare. This is punk praise & worship. Revival at the disco.
25. #KiwisCureBatten – "Team Ball Player Thing"
Lorde, Daniel Bedingfield, Jemaine Clement, and more come together to create the world's most ridiculous supergroup charity single. It's reminiscent of last year's "Weird Al" sports team anthem, with lyrics like "remember you're terrific, you're not horrible" and "we'll get magic wands, we'll get them from a wand store — it's obvious / we'll use them to freeze the other team right in front of us."
The difference here is that this is a real charity single for a real sports team (New Zealand's All Blacks). It's not only hilarious but also musically sound, sending up supergroups and sports culture while simultaneously raising awareness for rare-but-devastating Batten disease. Satire saves lives. 
24. Joywave – "Destruction"

Joywave achieves "Destruction" with distortion, and their first target is Walt Disney's Fantasia. The track opens, to hilarious effect, with a sample from the 1940 film before unleashing a (joy)wave of giants-stomping-skyscrapers rock riffs. Stokowski this is not.
The album comes from Disney's Hollywood Records, which is as unexpected as the song is catchy — then again, maybe the song's accessibility is perfectly suited for a label looking to establish itself outside of Hannah Montana and her Descendants. It's a happy kind of destruction, after all — the giants are whistling while they work. Snow White would be proud.
23. Twin Shadow, feat. D'Angelo Lacy – "Old Love / New Love"
For his third album, Twin Shadow challenged himself to step into the mainstream. The result is a dance record from a guy who used to be an esoteric indie rocker. That's the kind of thing that earns you a scarlet "sellout" badge these days, but his approach shows sophistication and real musicality. "Old Love / New Love" is a club cut, but one crafted by a serious artist. There's a self-awaredly 1990sness to the whole affair, like it belongs on a Jock Jams for hipsters. It has as much melody as La Bouche ever offered, and with plenty of piano to spare. These aren't brainless beats per minute, either — the lyrics are heartfelt and moving, even if sparse.
22. Grace Potter – "Empty Heart"
"There's a big old hole in the middle of you," Potter sings. She aims to fill it with some of Sheryl Crow's sun-soaked strumming, a dash of Dolly Parton's playful phrasing, and a splash of Tom Petty's blues. A honky-tonk singalong song for beer swillers.
21. Twenty One Pilots – "Tear in My Heart"
A ranting road trip song that kvetches about everything from heartache to the Department of Transportation's pothole problem. The subtle transition from piano rock to dance-floor synth in the chorus goes almost unnoticed, even as the Pilots roll their eyes at the latter. "The songs on the radio are okay. But my taste in music is your face."
20. The Weeknd – "In the Night"
Sounding at times like a reincarnated Michael Jackson, The Weeknd continues to surprise with angelic vocals and accessible melodies that seem to spite his hip hop background. "In the Night" is a love letter to an exotic dancer, executed with the same dramatic flair that made classics out of "Dirty Diana" and The Police's "Roxanne," but arguably without any of the judgment. "I don't think you understand," he sings. The implication is that he does understand. "I know that she's capable of anything." Unflinching, refreshing compassion. That's love.
19. Madonna – "Devil Pray"
The year's single sharpest rejection of secular spirituality arrived on the last album I'd have looked for it on — Rebel Heart, a high-energy and intensely personal project that finds the Queen of Reinvention in singer-songwriter mode. (Well, singer-songwriter-DJ, maybe.)
"Devil Pray" is the kind of song that can only come from someone who's taken wrong turns and learned hard lessons. Here's a woman who's earned the world's biggest platform and is using it to share some paid-for-with-pain wisdom. A performer first, Madonna doesn't always sing from her own perspective, but "Devil Pray" seems exceptionally intimate.
The lyrics are clever and effectively nonjudgmental — "you can do whatever you want, but here's how that worked out for me," essentially. Musically, it's a gem too. There's an acoustic guitar ballad at its core, dressed up in rich layers of crisp pop production. It's a high-drama track, but Madonna's voice is lovely, haunting, and pleading. Like a prayer.
18. Justin Bieber – "Love Yourself"

It sounds so sweet but it's oh so shady. As he leaves his musical adolescence behind, Bieber brings us the best burn of the year: "My momma don't like you, and she likes everyone."
17. Sam Smith – "Writing's on the Wall"
Brooding, moody, and dramatic, this is everything a Bond song ought to be. There's no big hook, mind you. To that end, Smith shakes convention like the gin in Mr. Bond's martini — a bold move that earned him widespread scorn but, from me at least, respect. If there's one thing Bond movies don't need more of, it's repetition. I only wish the film series could be as compelling as Smith's delivery.
16. Alabama Shakes – "Don't Wanna Fight"
Brittany Howard is a pleasure to see and hear in action. She "don't wanna fight no more" and sings about it like Tina Turner on fire. It's yips, riffs, and resolution — first-rate rock & roll.