By Aaron Wallace
I've made my fair share of Pixar rankings in the past, blazing through the list with debate and analysis in a slew of podcast episodes, including my own and The Disneyland Gazette.
And, when Disney's sent over advance copies from time to time, I've endeavored  to write full-length reviews of the Pixar films, too — WALL•E; Monsters, Inc.; Toy Story 2; Cars. I was even invited to report live from the red carpet at the world premiere of Cars, interviewing celebrities from Bob Iger and John Lasseter to Bonnie Hunt and Larry the Cable Guy, among others.
But all those things were a while ago, and Disney/Pixar have significantly expanded their critically acclaimed canon since my last update. Rather than drag all those films through yet another podcast episode (I have too many other topics on the slate for Zip-A-Dee-Doo-Pod as it is), I figured it might be time to commit my list to the well-cached index of the world wide web at last — especially since Pixar's back in theaters this week with its fourteenth feature film.
Monsters University is the Emeryville studio's best since Toy Story 3, surpassing expectations as a wholly Pixar-worthy film, even if it does fall just short of its predecessor. Heartwarming, funny, and well told, the movie is a welcome invitation to revisit the monstrous world that was so imaginatively defined in these characters' first go-round. The new story is undeniably generic — yet another Pixar buddy flick — but University happily avoids rehashing the Inc. plot. Actually, it's closer to Harry Potter and the Goblet of Fire than anything else.
So how does it size up against its Pixar brethren? Here's how the "Luxo library" sits on my shelf, where films are cataloged not by chronology or alphabet but by artistic quality and narrative merit. Note that Numbers 13 and 14 stand a world apart from the truly phenomenal Top Twelve.
The 14 Pixar Films: Reviews & Rankings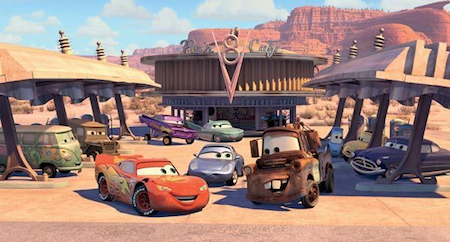 14. Cars
The desert air is thick with broad, crude humor and lifeless cookie-cut characters in Pixar's most embarrassing feature film. Though not quite awful (and indisputably beautiful, visually speaking), the movie is middling at best.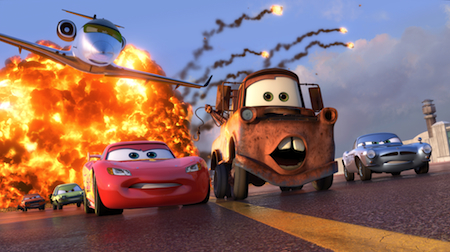 13. Cars 2
Cars 2 isn't better than Cars in any meaningful way, but the out-of-nowhere spy concept at least invites some atmospheric diversity to a world that is otherwise awkward and stale. I'd probably like NASCAR a little more if it had an espionage angle, too.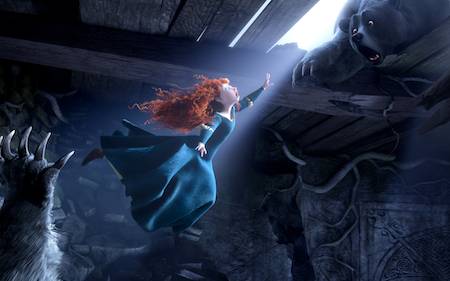 12. Brave
Bratty Merida isn't easy to like, and it's hard to pretend that we haven't all already seen The Little Mermaid and Brother Bear before. But by the time it's over, Brave's bond between mother and daughter powerfully reminds us that Pixar makes movies that matter.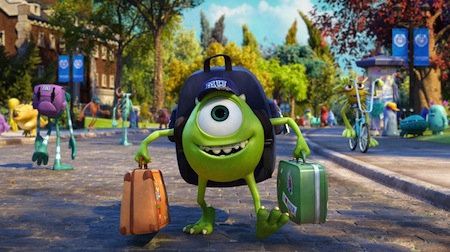 11. Monsters University
While it isn't laugh-out-loud funny nearly as often as its predecessor, and there's less "orientation" (no pun intended) to the monsters' wacky world, University nevertheless succeeds in what it set out to do, giving us a few more hours of adventure with these ever-so-lovable characters. And of course, there's some of that trademark Pixar poignancy to take it to the next level.
10. Finding Nemo
Nemo's ridiculously overblown popularity with the masses seems unjustified in comparison to stronger Pixar efforts that don't enjoy the same kind of acclaim. But the movie is an even blend of the various things Pixar can do better than most: make us intrigued, make us laugh, make us care, and make us cry.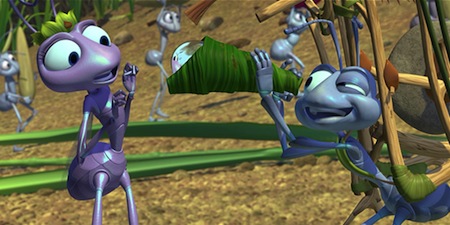 9. A Bug's Life
Perpetually underrated, A Bug's Life is an enthralling warrior's tale, brought to life with an endearing cast of characters, an arresting villain, solid conflict, and pitch-perfect pacing. (Side note: when does Princess Atta get her coronation ceremony at Magic Kingdom, as was recently bestowed upon Merida?)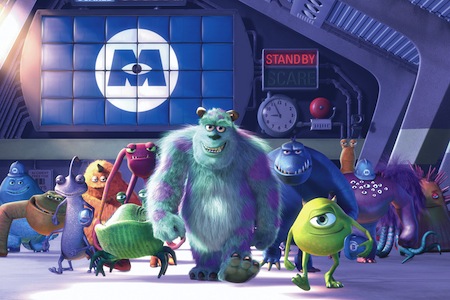 8. Monsters, Inc.
It says a lot about Pixar that a nearly flawless movie like Monsters, Inc. can come in at #8 on a list of their greatest works. Absolutely hysterical but also suspenseful and incredibly touching, Monsters makes the most of every second, always moving the story forward or unveiling new facets of its amusingly imaginative world.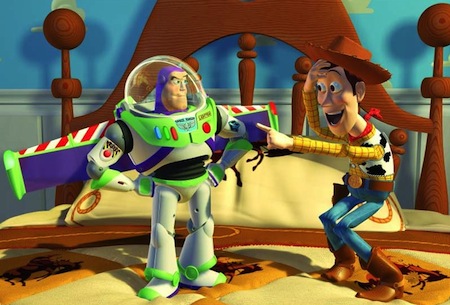 7. Toy Story
The Snow White of the CGI era, Toy Story forever changed Hollywood and, in some sense, the world. The industry's first major all-computer-animated movie set the bar very high for what would become a dominant force at the box office, establishing Pixar as CGI's créme de la créme. A reference-quality film, it's a shining example of how to tell a great story in the especially visual medium of animation. Music, voice acting, and characterization come together in a perfect storm that started a decade-long love affair between audiences and Andy's toys.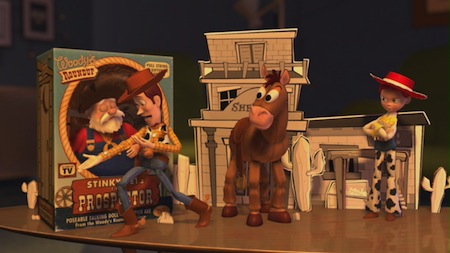 6. Toy Story 2
The rare sequel to rival — and even surpass — its original, Toy Story 2 ups the ante on the first film's action-adventuredom without overblowing a single thing. Several new and equally appealing characters are added to the mix, while the filmmakers skillfully examine new dimensions of the evolving relationship between Woody and Buzz.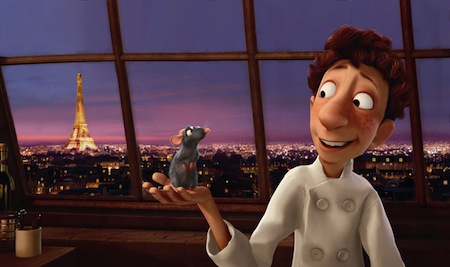 5. Ratatouille
Pixar's first "art film" kicked off what we might think of as the studio's second era, though that reading requires us to forget about Cars 2 (I keep trying, but the Disney Parks won't let me). With sweeping Parisian vistas, a quirky relationship between two unlikely protagonists, and a delightfully envelope-pushing concept that invites rats inside a five-star kitchen, Ratatouille is both beautiful and bold.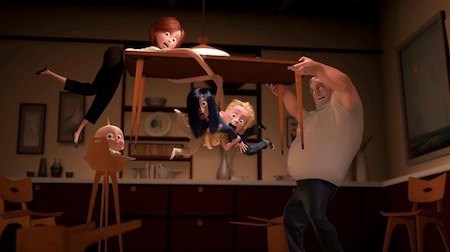 4. The Incredibles
Holding its own with The Dark Knight and Spider-Man 2, The Incredibles is one of the greatest superhero movies ever made. Though its action is grandly constructed and never excessive, instead always serving the story as paramount, it's the film's subtext that really makes it stand apart. A family's domestic crisis plays out in the midst of a more imminently perilous one, putting modern times under the microscope and challenging both groupthink and political correctness along the way.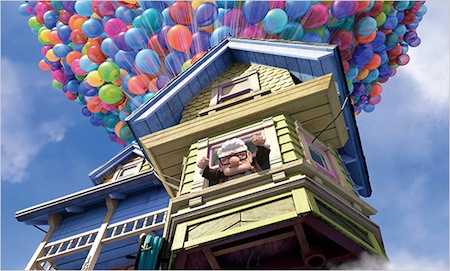 3. Up
There's a sequence early on in Up where we get to look back on a life of love shared between Carl and Ellie before her passing, all set to nostalgic composition by the exquisite Michael Giacchino. Not since Bambi's mom took a bullet has a single scene of film had such a right-in-the-gut impact. It's a testament to the power of animation. Ice Age this is not. Instead, it's a soaring adventure that pits youth against old age in a conflict that ultimately underscores the beauty of life.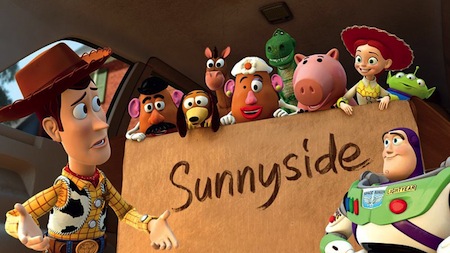 2. Toy Story 3
Toy Story 3 earns its power from a decades-long legacy that paved its path. But it also came later in life from Pixar, which wades into thicker waters these days, dramatically speaking. And so Toy Story 3 builds on the first two movies with an increasingly raw interrogation of friendship, sentimentality, and maturation. It gives the characters their biggest and most personally challenging adventure yet, but it also harnesses all the affection that audiences have felt for those characters for the better part of two decades. The movie forces us to confront the prospect of losing those characters and — by proxy — the prospect of losing our friends. That's what the toys feel. It's what Andy feels. And it's what my generation felt, having been kids when the first Toy Story released and now having grown up alongside Andy. Tapping into universal emotion in an almost overpowering way, the film smashed records and touched the hearts of the whole world. Nearly everyone I know left the theater with tears in their eyes, myself included.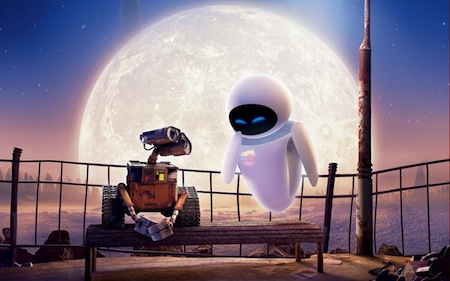 1. WALL•E
Merida's movie might have won the title Brave, but WALL•E is one of the most courageous movies ever made. Imagine, a major Hollywood blockbuster that asks the masses to sit through what can almost be described as an experimental silent film. I find myself continually astonished at the title character's power to so grippingly emote with nary a word. He spends a good chunk of the movie just picking up trash in utter silence, for crying out loud! And yet it's always beautiful and never boring. Artful, charming, intelligent, and inspired, WALL•E is a genre-bender for the ages and one of the finest works of cinematic art ever.
Nearly twenty years after its first feature film, it's nice to know that — Cars franchise notwithstanding — we can still rely on Pixar to give us great movies, sequels included. If you haven't seen Monsters University yet, get to your local theater and add to its stunning $82-million opening gross, Pixar's second-highest (after Toy Story 3).
And for more of my thoughts on Disney, don't forget to check out The Thinking Fan's Guide to Walt Disney World: Magic Kingdom.