By Aaron Wallace
Saving Mr. Banks is a film about Walt Disney's efforts to wrest the rights to Mary Poppins from its author, P.L. Travers. She was an infamously unpleasant and stubborn woman who'd been publicly critical of Walt for decades, so theirs was a conflict worthy of fiction. Speaking of fiction, Banks is just that — in part. And therein lies the rub that's gotten some people's kite tails in a twist.
While it is true that Travers (played here by Emma Thompson) traveled from London to L.A. to meet with the Disney team, and that she gave 'em Hell while she was there, the author didn't spend nearly as much time with Walt (Tom Hanks) as Banks would have us believe. They did not go to Disneyland together, for instance, but we nevertheless see them there in one short scene.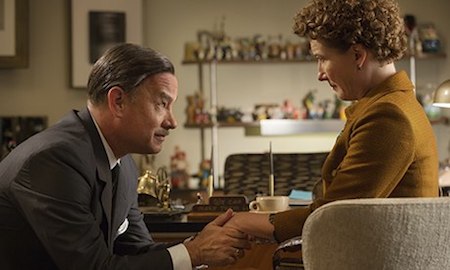 Of course, Saving Mr. Banks is not the first great film to play fast and loose with historical truth. Disney's own Pocahontas was guilty of the same, as have been scores of filmmakers who boldly free themselves from the shackles of truth to make a movie that means something. Narrative dramas shouldn't be confused with documentaries, not only because they play to different audiences but also because their very existence is dictated by a different purpose. Documentaries enlighten; dramas inspire. All screenplays are adaptations, regardless of whether they adapt fiction or history. Asking Banks to rigidly adhere to what really happened would be like asking Walt to have confined his Snow White to the letters on the Brothers Grimm's page. What matters more is that a film captures the essence of the story being told and does so in a way that imparts some new meaning on those who watch it. And by that score, Banks is a resounding success.
Much has been made of the fact that various players in the real-life story — Richard Sherman (who, along with his late brother Robert, penned the Poppins songs) and his extended family, for instance — have squabbled over the film's fairness, or that Travers might come off as more villainous than she actually was. But the filmmakers' duty is not to the Shermans, nor to Travers or even Walt himself. Their duty is to the audience and, in this case, to Mary Poppins (the film)… which is what Banks is ultimately all about.
Poppins is a rare kind of movie. Like The Wizard of Oz, it's an enduring fantasy that eternally enchants most of us from the time that we're very small. Because of that, it lives in our cultural subconsciousness, where it enjoys a legacy even grander than any of its accomplishments on-screen. Its songs, characters, and message hold a special place in our hearts.
Saving Mr. Banks is set in that special place. It creatively imagines what the Poppins stories might have meant to Travers and Walt, but more importantly, it meditates on what Poppins means to us. After all, it is George Banks who is really the main character in Disney's Poppins. His plight as a troubled, grown man desperate for happiness in life is a rather dark but deeply relatable one, especially for mature viewers who've likely felt something of the same at one time or another. Mary's magic is the light that exposes — and ultimately transcends — his despair. He is the epitome of Walt Disney's worldview, which found happy endings only after acknowledging why we needed them in the first place.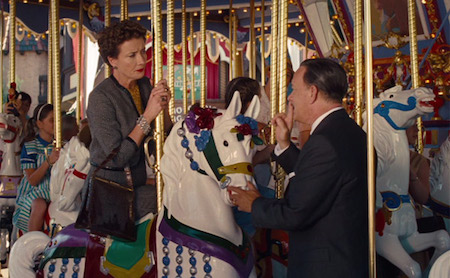 Recognizing that, Banks astutely sets it sights on Poppins' mustachioed, precision-prizing patriarch. The screenplay supposes that Travers might have remembered her father just as we remember Mr. Banks. And as Walt saves the latter in film, she struggles to save the former in her imagination. In exploring the complex relationships between father and daughter… author and filmmaker… imagination and reality, Banks becomes a tool in helping us understand, appreciate, and celebrate Mary Poppins all the better. And maybe even our own interpersonal relationships, too.
I confess that I cried watching this more than I have for any other film in recent memory. Undoubtedly, that's due in part to my own personal closeness with the subject matter and my own fond feelings for Mary Poppins (among my very favorite films of all time). But it's also thanks to the film's sentiment, which is conveyed effectively and honestly enough through clever and inventive use of the Poppins' soundtrack and script, not to mention particularly compelling acting on Thompson's part.
Not everything is perfect. Tom Hanks plays a better Tom Hanks than he does a Walt Disney, though there's one standout scene — set in Travers' house in London — wherein Hanks unexpectedly reminded me of Walt's interview with CBC in 1963. And the frequent flashbacks to Travers' childhood in Australia sometimes miss the nail's head. But I'd be remiss to focus too much on that, just as Banks' critics are silly to harp on a tiny anachronism like Thompson's exchange with a stuffed Winnie the Pooh — Disney wouldn't get in the Pooh game until two years after Mary Poppins. (For the record, many of AFI's 100 Greatest Films of All Time are marked with various minor goof-ups. Even Citizen Kane contains an anachronism.)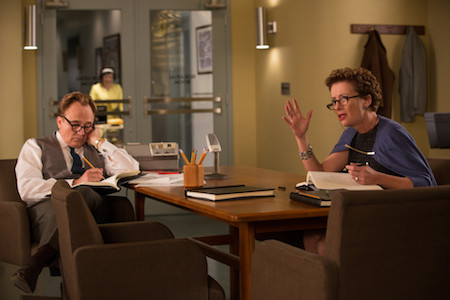 The fact that the real P.L. Travers cried after Mary Poppins' premiere — presumably out of disappointment — is common knowledge among film fans. And indeed, Travers went to her grave with many an unkind word to say about Disney's version of her tale. But in a boldly postmodernist move, Saving Mr. Banks questions the hegemonic history surrounding that account, instead challenging the notion that Travers' feelings could have been nearly so incomplex.
Many will denounce that as Disney compromising truth in order to save face for their own misdeeds against a literary great, but I think the scene in which Thompson's Travers breaks down inside a crowded theater is actually much more layered than that. It seems to me she feels a great many things during that exquisite bit of acting, and who are we to say that the film got it wrong? For that matter, who was Travers herself to have said? After all, her own accounts about the entire filmmaking venture were, verifiably, inconsistent over the years.
But more to the point, P.L. Travers' personal feelings about the work are of very little consequence to anyone other than Travers. She wanted a movie that adhered narrowly to her original text and to the true-to-life memories in her mind. But history has proven her wrong. Mary Poppins is a better film, and a more important one, because Walt and his team didn't do things her way. And that brings us to the most fascinating thing about Saving Mr. Banks: the instruction it gives us as an audience on how to understand it.
Banks is a commentary on Travers' approach to Poppins, and its conclusion is that she was on the wrong side of cinematic history. We might apply the very same commentary to Banks itself, then: to argue that this film should adhere to what really happened is to say that Mary Poppins should have been made the Travers way. Banks' critics make exactly the same kind of argument that Travers made against Walt. And if they'd gotten their way, it's likely that no one would have cared enough about this story for a Saving Mr. Banks to have ever been made at all.
So it's in that spirit that I turn kindly toward those critics and say: Don't be such a P.L. Travers.
---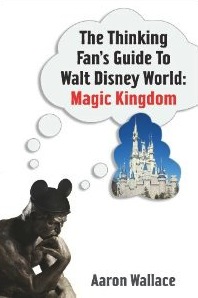 For more of Aaron's thoughts on Disney films — and their connections to theme parks (and much more) — be sure to check out his brand-new book, The Thinking Fan's Guide to Walt Disney World: Magic Kingdom.