I'm very excited to announced a new giveaway just in time for the holidays! I've reached out to a number of wonderful authors and publishers who've written and produced fantastic Disney books. Now you have a chance to win a whole bundle of them — with each book signed by its respective author! How exciting is that? Check it out: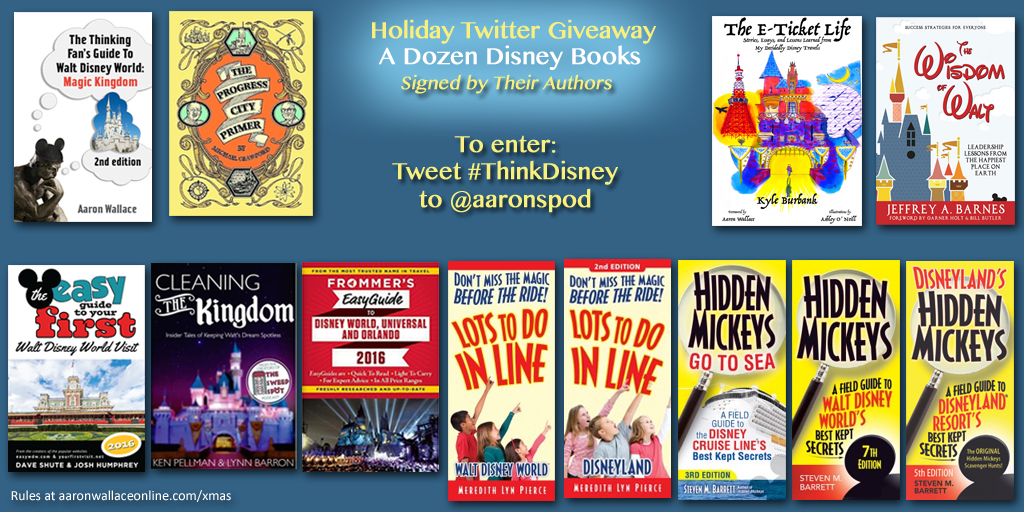 The winner gets one signed copy of each:
And now for the official rules and obligatory fine print:
NO PURCHASE IS NECESSARY TO ENTER OR WIN. A PURCHASE DOES NOT INCREASE THE CHANCES OF WINNING. 
The "Holiday Twitter Giveaway: A Dozen Disney Books" giveaway ("Giveaway") is sponsored by The Thinking Fan's Guide to Walt Disney World: Magic Kingdom ("Sponsor"). Giveaway is governed by these official rules ("Official Rules"). Not a contest. Not a sweepstakes. By participating in the Giveaway, each entrant ("Participant") agrees to abide by these Official Rules, including all eligibility requirements, and understands that the results of the Giveaway, as determined by Sponsor and its agents, are final in all respects. The Giveaway is subject to all federal, state and local laws and regulations and is void where prohibited by law.
Giveaway begins at 5:00 p.m. Pacific Time on December 14, 2015 and ends at 5:00 Pacific Time on December 18, 2015 ("Entry Period"). All entries must be received by 5:00 Pacific Time on December 18, 2015. To enter, compose a tweet at www.Twitter.com containing the username @aaronspod and the hashtag #DisneyFanBooks. No purchase necessary. One (1) winner will be selected at random from all eligible entries upon the expiration of the Entry Period. Winner to be determined using a random number generator script at Sponsor's discretion. One (1) entry per Participant. Each participant must have a registered Twitter account. Each participant may submit an entry using only one (1) Twitter account. Participant is not required to follow the @aaronspod account or any other registered Twitter.com account in order to enter or win. Giveaway open to residents of every country except where prohibited or where U.S. Postal Service is unable to deliver for any reason. Must be age 18 or older to enter. Void where prohibited. Sponsor reserves the right to disqualify any entries made in bad faith or suspected of bad faith. Giveaway may be terminated at any time without advance notice and without conferring rights to any Participant. Sponsor not responsible for shipping damages or incidental costs. Winner will be notified via "at-reply" directed to Winner's Twitter account on or after December 19, 2015 ("the at-reply"). Winner must respond with full name, a valid email address, and a valid shipping address within 72 hours of the at-reply; failure to do so may result in forfeiture, after which a different Winner will be selected at random according the procedure(s) described above. Winner agrees that both the Sponsor and the @aaronspod Twitter account will publicly announce the Winner's Twitter handle. Winner will receive one (1) copy of each book pictured (collectively,  the "Books"), subject to change, for a total of twelve (12) Books. Approximate retail value estimated at $180.00 U.S.D. Due to postal limitations, Book(s) may not arrive until after the Christmas 2015 or New Year's Day 2016 holiday. Sponsor, @aaronspod, AaronWallaceOnline.com, the Giveaway, the Books' respective authors, and the Books' respective publishers are not, to the Sponsor's knowledge, authorized by or affiliated with The Walt Disney Company or Twitter, Inc. Giveaway has not been authorized by and is not affiliated with The Walt Disney Company or its subsidiaries. Each author and/or publisher participates independently and gratuitously and without affiliation with the others.
Prize is non-transferable. No substitution or cash equivalent of prizes is permitted. Sponsor and its respective parents, affiliates, subsidiaries, agents, and representatives are not responsible for any typographical or other errors in the offer or administration of the Giveaway, including, but not limited to, errors in any printing or posting of these Official Rules, the selection and announcement of any winner, or the distribution of any Book. Any attempt to damage the content or operation of this Giveaway is unlawful and subject to possible legal action by Sponsor. Sponsor reserves the right to terminate, suspend or amend the Giveaway, without notice, and for any reason, including, without limitation, if Sponsor determines that the Giveaway cannot be conducted as planned or should a virus, bug, or unauthorized intervention, technical failure, Act of God, or other cause beyond Sponsor's control corrupt the administration, security, fairness, integrity or proper procedure of the Giveaway. Sponsor and its respective parents, affiliates, subsidiaries, agents, and representatives, and any telephone network or service providers, are not responsible for incorrect or inaccurate transcription of entry information, or for any human error, technical malfunction, lost or delayed data transmission, omission, interruption, deletion, line failure or malfunction of any telephone network, computer equipment or software, the inability to access any website or online service or any other error, human or otherwise.
INDEMNIFICATION AND LIMITATION OF LIABILITY
BY ENTERING THE GIVEAWAY, EACH ENTRANT AGREES TO INDEMNIFY, RELEASE AND HOLD HARMLESS SPONSOR AND ITS PARENTS, AFFILIATES, SUBSIDIARIES, THE TWITTER.COM PLATFORM, ADMINISTRATOR, THE BOOKS' AUTHORS, THE BOOKS' PUBLISHERS, ADVERTISING AND PROMOTIONAL AGENCIES, AND ALL THEIR RESPECTIVE OFFICERS, DIRECTORS, EMPLOYEES, REPRESENTATIVES AND AGENTS FROM ANY LIABILITY, DAMAGES, LOSSES OR INJURY RESULTING IN WHOLE OR IN PART, DIRECTLY OR INDIRECTLY, FROM THAT ENTRANT'S PARTICIPATION IN THE GIVEAWAY AND THE ACCEPTANCE, USE OR MISUSE OF ANY PRIZE THAT MAY BE WON. SPONSOR AND ITS PARENTS, AFFILIATES, SUBSIDIARIES, AND THE BOOKS' AUTHORS AND THE BOOKS' PUBLISHERS DO NOT MAKE ANY WARRANTIES, EXPRESS OR IMPLIED, AS TO THE CONDITION, FITNESS OR MERCHANTABILITY OF THE PRIZE(S).
PUBLICITY
By participating, each entrant grants Sponsor permission to use his/her name, Twitter handle, and/or public comments for publicity purposes without payment of additional consideration, except where prohibited by law.
Any questions regarding this Giveaway should be directed to media@aaronwallaceonline.com