By Aaron Wallace
Too much sword crossing, not enough double crossing. That's On Stranger Tides in a nutshell. The newest chapter in Disney's Pirates of the Caribbean saga is the first to cast Johnny Depp's Jack Sparrow as its foremost protagonist, leaving behind previous leads Will and Elizabeth Turner (Orlando Bloom and Keira Knightley). It's also the first to disappoint in the story department.
These are new adventures for Captain Jack. Given the character's iconic stature, that's probably an acceptable means of continuing the franchise. The only problem (well, the biggest problem) is that this time, Jack's on a mission without a motive. A selfish character without any self-interest is in a dilemma indeed, and that story snag leaves him feeling a bit like a stranger… probably not what the title was going for.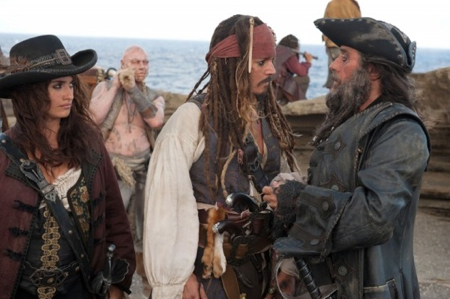 The new film has Sparrow on a quest for the Fountain of Youth — we don't really know why, but we're assured he's wanted to find it for a very long time. He soon learns that he isn't the only Jack Sparrow in search of the Fountain, however. An impostor's in town, gathering a crew and a ship to set sail after those legendary waters. That impostor turns out to be a former lady friend of Sparrow's, Angelica (Penélope Cruz), a sexy vamp still peeved about Jack having pulled the old one-two, love-her-and-leave-her at some point in their past.
Angelica does have a good reason for finding the Fountain… it'll save her dad from a prophecy forecasting his murder at the hands of a one-legged man. After a lengthy duel, Jack and Angelica kiss and make up, and he joins her crew… he needs to get on a ship, we're told, but again, we never really know why. Of course, Jack's less inclined to save Angelica's dad once we learn that she's the progeny of none other than Blackbeard himself… and that one-legged man is Sparrow's long-time frienemy, Captain Barbossa (Geoffrey Rush), now in the employ of the English crown.
The film offers no one to root for or against. The first three movies were so brilliant because the characters, whether "good guy" or "bad," could never be trusted. Relentlessly self-interested, duplicitous, and willing to betray, their shifting allegiances and unforeseen agendas made them fascinating to observe. Blackbeard is clearly meant to be the villain here, but he's not much more unsavory than Sparrow was in the first film… and Jack himself has been transformed into a straightforward nice guy. Where's his scalawaggery? We should never feel like we can trust him so securely, and yet in this film — for the first time — we do.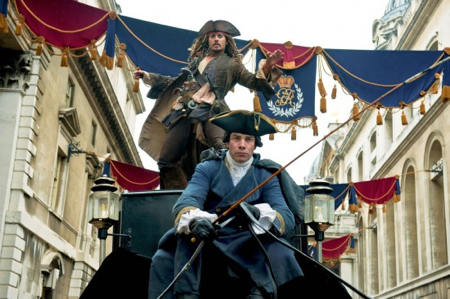 The writing is generally less complex, less clever, and not as tight. A few laugh-out-loud moments aside, the film lacks the pervasive humor of the previous installments, and there's quite a bit less going on. The story is simple (though it still takes over two hours to tell it) and painted with far fewer shades of gray. Maybe that has something to do with new director Rob Marshall, best known until now for musicals and a mixed track record.
More likely the problem, though, is that screenwriters Ted Elliott and Terry Rossio decided to adapt an existing novel for their screenplay this time instead of spinning their own stories again. Even those who complained about the labyrinthine scope of the first three plots (something that never bothered me) would surely prefer those to something so much less inventive.
Maybe the book did a better job explaining why there are zombies on Blackbeard's ship. I kept waiting for an explanation, and I still don't have a clue.
The new characters aren't well developed, nor are their relationships with one another. This franchise reboot launches into its network of personalities the same way Dead Man's Chest did. But there, we already knew everyone. Stranger Tides doesn't afford us the introductory benefit of an establishment film like Curse of the Black Pearl.
Depp and Cruz surprisingly lack on-screen chemistry. The script desperately tries to compensate with an ongoing exchange of innuendo, far tawdrier than anything seen in the series until now. It's not enough. Moreover, a missionary and a mermaid are poor replacements for main characters Will and Elizabeth Turner. The two are thrown at us like we're supposed to care about them just because they're there, but investing in their outcome remains a real challenge.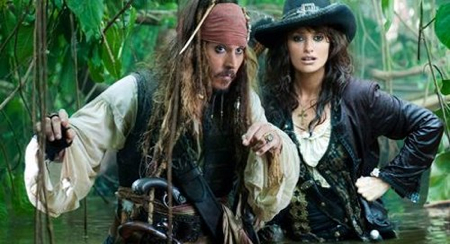 Filling in the extra time created by a modest storyline is an exorbitant amount of action spectacle. Sword sparring, barrel hopping, and explosions go on and on, seemingly for their own sake. Jack's early battle with a masked Angelica is especially tiring because it's painfully obvious to the audience right away that it's Cruz dressed up in that Sparrow suit. We can only pretend to be as confused as Jack is for so long.
In the other Pirates movies, the action was abundant to be sure, but refreshingly clever — a reflection of Sparrow's personality. The audience was invested in the outcome of those sequences because we were so wrapped up in each character's fast-changing and deceptive motivation. Who can forget the three-way sword fight between Jack, Will, and Norrington in Dead Man's Chest? Six richly defined characters took advantage of the same situation, making the clamor meaningful and addictive. That's not the brand of action stamped all over the new film, I'm afraid — it's a much blander sort, and there's more of it than ever.
Still, Stranger Tides isn't all bad. For one thing, the acting is top-notch. I think Johnny Depp could play Jack Sparrow with no script at all and still make him likeable. And while he doesn't connect with Cruz on the screen, Depp's pairing with Rush is irresistible as ever. The same goes for his first mate, Gibbs (Kevin McNally, also returning).
There are some nice nods to the previous chapters and the Disneyland ride, and there's still enough of the Rossio/Elliott flavor to keep the script alive. Ultimately, the movie is diverting enough to qualify as entertainment, but it fails to deliver the same special feeling that once held us in delighted suspense.
Will it — and should it — all end here, with the fourth film? Probably not, and that goes for both questions. One of the best things about Tides is its setup for the next film. Without giving anything away, I'll just say the story's headed somewhere with something in hand, and it's promising. Disney reportedly has plans for two more films, and there are plenty of reasons (billions, even) for the rest of the cast and crew to climb aboard.
I'm ready to give the franchise another chance. I just hope that next time, Jack Sparrow doesn't betray my trust… or rather, I hope he does.
RELATED: My Interview with Pirates Screenwriters Ted Elliott and Terry Rossio