The following review contains a few minor spoilers. 
Pixar is so good at turning on the waterworks, it's a wonder they're based in California. I was a mess with WALL•E and EVE. The memories scene in Up was like a second bullet to Bambi's mom. Having glasses to mask my Toy Story 3 tears made me briefly grateful for 3D. Undoubtedly, Pixar knows how to pack a punch.
Now they've gone and made a movie about emotions themselves, and naturally, I expected Inside Out to be the one that finally turned me upside down, singlehandedly opening Orlando's newest wave pool with my own tears. I even decided not to see it at Universal's CityWalk because I know how much they don't want you bringing your own water there.
But what Inside Out got from me was more mist than moat, as it sadly never fully realizes the enormous potential of its ambitious premise.
For those who don't know, the film is largely set inside the mind of an eleven-year-old girl, Riley, whose happy life takes a turn when her family moves from Minnesota to San Francisco. We experience that transition by way of five emotions, each delightfully personified and brought to life by a perfectly-cast celebrity: Joy (Amy Poehler), Sadness (Phyllis Smith), Anger (Lewis Black), Fear (Bill Hader), and Disgust (Mindy Kaling). They work hard to keep Riley in emotional balance, but when Sadness starts having uncontrollable urges, Riley's entire inner being is thrust into crisis. Joy and Sadness get shut out altogether, and they spend much of the film trying to work their way back into Riley's life. Along the journey, they meet the movie's real scene stealer, Bing Bong (Richard Kind), Riley's long-forgotten imaginary friend.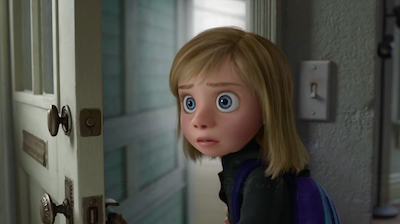 At times, Inside Out paints a poignant picture of human emotion. There are even moments where you sense that it wants to develop a depressive disorder in Riley, though it never quite goes there (wisely, perhaps). But clearly, we're dealing with something a lot headier here than CGI's typical "minion mayhem" fare. Pixar is bolder than most studios, of course, and they're to be applauded for even going near this kind of concept. No other major animation studio would have.
But if there's one thing I hoped to walk away with, it was some meaningful new insight into humanity's emotional inner workings. I didn't get that. Inside Out's most profound realization is that joy and sadness are complementary emotions. That's surely true, and it's worth a reminder now and then, but to the adult mind, there's nothing revelatory in that notion.
Instead, I walked away with a lot of questions. Are all five of the emotion-characters wholly different from each other? Or, as parts of Riley, do they each share a common streak of quintessential "Riley-ness"? How alike are Riley's Anger and Dad's Anger (briefly seen), for example? And what about other feelings, like passion, envy, or surprise? Psychologists have interesting theories on how that all works, but Pixar doesn't offer much in the way of illumination.
More problematic, though, is the crisis that Inside Out builds for Riley. Moving to a new state is unquestionably a difficult experience for anyone, especially a child, and there's some potential for emotional inquiry in that transition. But the movie wants its audience to witness an inner collapse. (Literally, the "islands" of her personality crumble and fall into an abyss.) To the adult mind, a more disastrous experience might have worked better — a terminal diagnosis, the loss of a loved one, a divorce, etc. That might have meant an older protagonist with a more complicated life, but also a richer film.
And that's really my biggest fear — that Pixar intentionally watered down a lofty premise for the sake of casting a wider net. WALL•E was a benchmark for high-concept animation, verging on arthouse, but it dragged its feet at the box office. Joining it in the bottom half of their profits is Ratatouille, the studio's other big high-brow project. Up fared better treading similar territory. But since then, we've had three of the studio's weakest efforts — Cars 2, Brave, and Monsters U — all in a row. I can't help but wonder if Pixar's decided to abandon its once-soaring aspirations for fear of a divided (and smaller) audience.
Then again, maybe that isn't fair. Even as it underwhelms, Inside Out impresses, too. The many unbearable trailers that played before it, each highlighting yet another sequel to a generic "kids movie," reminded me just how special an effort like Inside Out is.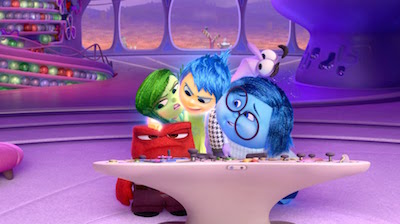 The movie is colorful, imaginative, and for the most part, unlike anything else. It bucks nearly every Hollywood formula, with one big exception: Pixar's own buddy-comedy blueprint. Joy and Sadness are the latest in a long string of Pixar pairings who clash at first but learn to appreciate each other. Even back during the studio's untainted glory days (that is, before Cars), critics' lone kvetch against Pixar was the over-reliance on conventional buddy duos. But just like Buzz and Woody or Mike and Sulley, the characters here are immensely likeable. Sadness is my favorite. I want to give her a hug.
The hilarious one-liners are real winners too. They're often very clever. The artistry is dazzling, and the ending makes for a very nice moment, even if it isn't all that it could be.
My review, then, would ultimately register as a positive one over at RottenTomatoes.com, where Inside Out is certified fresh at 98%. It's easily Pixar's best work in the last 5 years, and that means it's one everybody ought to see. There may be enough creativity in the film for you to find more insight in it than I have. If nothing else, it certainly deserves more magnitude at the box office than, say, San Andreas. So go and take some friends.
This much I know for sure: for the rest of my life, whenever I envision my own emotions, I'll imagine them in the little likenesses of these wonderful characters. That's probably true for millions of other people too, so the movie has already cemented its own legacy.
I just wish Inside Out went even further outside the box.
NOTE: Per tradition, Inside Out is accompanied to theaters by Pixar's latest short film. Lava is a weird little fish floating somewhere between the islands of cute, confusing, and corny. It isn't one of their best cartoons, but it's probably among the more memorable.
---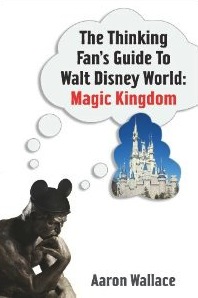 For more of Aaron's thoughts on Disney films — and their connections to theme parks (and much more) — be sure to check out his bestselling book, The Thinking Fan's Guide to Walt Disney World: Magic Kingdom — available in bookstores and on iBooks, Kindle, and Nook.
Also check out Kyle Burbank's new book, The E-Ticket Life, featuring a foreword by Aaron.
And for another interesting, slightly different take on Inside Out, see DVDizzy.com's excellent review.
All images of Inside Out copyright Walt Disney Pictures and Pixar Animation Studios, 2015.