By Aaron Wallace
Every Disney Animated Classic since 1994's The Lion King has lived in its shadow. The first few to trail it — Pocahontas, The Hunchback of Notre Dame, Hercules — succeeded by more modest measures but also tried (too) hard to differentiate themselves from the studio's smash successes of the previous ten years. Then came the dark age, when the "Disney Feature Animation" brand meant a sure flop.
But the past few years have seen a slowly changing tide, as films like Tangled and The Princess and the Frog aspired to more than merely keeping pace with DreamWorks and Fox. Still, something's felt missing, at least when we consider the studio's classics of yore. But now comes Frozen, a straightforward fairy tale musical that succeeds on nearly every mark, achieving narrative and emotional heights that easily surpass those that came just before it. At long last, this is the Disney movie you've waited nineteen years for.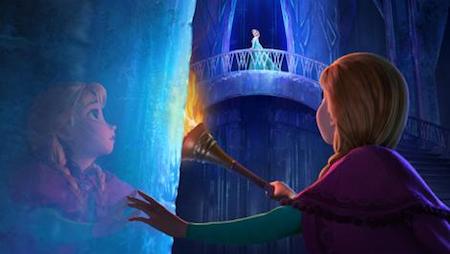 Based very loosely on Hans Christian Andersen's "The Snow Queen," Frozen tells the story of Anna (Kristen Bell) and Elsa (Idina Menzel), sister princesses who share a close bond until Elsa discovers that her mysterious ice-making powers pose a perilous threat to the younger Anna. To protect her sister and the rest of the kingdom, Elsa decides to keep her distance, but her quest for isolation brings devastating consequence to the fictional Scandinavian province of Arendelle1. Concerned for her sister and her subjects, Anna sets out on a journey to convince Elsa that there's a place for her at home. There are laughs, danger, romantic intrigue, and unforeseen twists along the way — but those are for you to discover on your own.
For the first time this decade, I'm convinced that Disney can make movies like it used to — like Walt used to, and like his successors did in the 80s and 90s. Beautifully written, animated, sung, scored, and performed, Frozen gets everything right. Its approach is wholly free of irony, and the only innuendo is so vague that it's legitimately debatable whether it's innuendo at all. This sets it apart from most other animated films today and, to some extent, from Tangled.
Frozen takes its characters and story as seriously as Beauty and the Beast took its own. The subject matter is less poetically epic than Beast's, and that keeps Frozen from reaching the same heights, but the filmmakers here are as lovingly invested in telling this tale as anyone could ask. It's incredibly heartening to see the studio embrace classic storytelling again without scrambling to convince people that what they're watching is hip.
But while its tone is traditional and the narrative retains certain structural mainstays, Frozen repeatedly breaks convention with character depth, nuance, and plot points that spite your expectations (in a good way). And there's surprising psychological profundity too. Elsa's story, inspiring in its own right, works as a parable for identity politics and considers whether ice ought to be thrown in the melting pot, so to speak.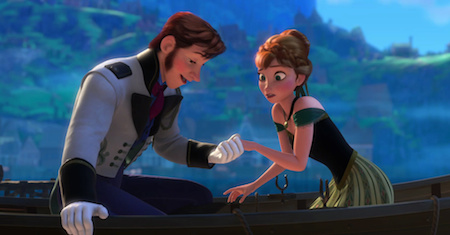 In talking about how Frozen differs from Tangled, however, I must note that they look very much alike. Anna and Elsa, with eyes half the size of their faces, could pass as Rapunzel's Scandinavian cousins. That's a peculiar trait to carry over from one film to the next, as doing so denies either the chance to call such highly stylized design a trademark all its own. But that notwithstanding, Frozen is absolutely gorgeous. Whereas CGI seemed a puzzling choice for the otherwise rustic and down-to-earth Tangled, it makes perfect sense here. The story is big on magic and demands sudden, fast-and-far-shooting explosions of ice — complex effects that might not have fared as well with traditional ink and paint. The artfully rendered digital environment also allows for breathtaking, snow-capped canopies and an atmosphere that feels true to Arendelle's spellbound climate.
But alas, I've gone too long without mentioning the music. THE MUSIC! Frozen is, by a mile, the closest Disney's come to its Menken/Ashman glory days since Bill Clinton was president. Like The Lion King, it opens with a song — a full-throated Les Mis "Look Down"-like number called "Frozen Heart," which does very little to establish the story but certainly sets the soundtrack's tone. From then on, Frozen is a full-fledged musical.
It's less interested in large ensemble numbers than, say, Beauty and the Beast. But married songwriters Robert Lopez (Avenue Q, Book of Mormon) and Kristin Anderson-Lopez (Finding Nemo: The Musical and Winnie the Pooh, both with Robert) unapologetically embrace the conventions of the Broadway stage, something Tangled and Frog couldn't quite do. That's perhaps most evident in the casting of Idina Menzel, who delivers the best song of the set, "Let It Go," a parallel of her own "Defying Gravity." Actually, Menzel's voice is so unique and familiar that it doesn't always sound like it's coming from Elsa's face, but I guess that's a small price to pay for a performance of this magnitude. All of the other actors are outstanding in spoken word and in song. Most impressively, Bell holds her own with Menzel.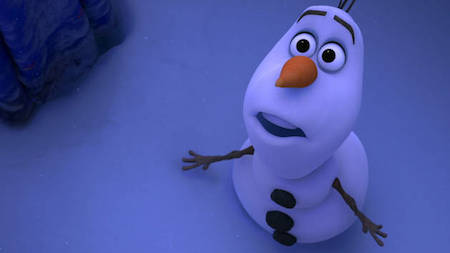 I have one more thought on Frozen and it concerns Olaf the snowman. If you've seen the commercials, you might fear that he's an annoying, hijinks-y diversion. He's not. In the grand tradition of Disney's finest comic-relief sidekicks, Olaf earns laughs that are heartfelt and genuine. He is lovable and his presence is indispensable.
Frozen isn't as marvelous as The Lion King (or The Little Mermaid or Aladdin or Beauty and the Beast) but it's as strong as anything the Walt Disney Animation Studios have given us since —  and the truest to what has long defined the company's animation as "classic" and "great." "Frozen" is actually a nice way to describe how I felt watching it… totally arrested by the magic of Disney animation in a way I haven't been for far too long.
Special Notes
• The movie is preceded by an all-new and much-buzzed-about Mickey Mouse short film entitled Get a Horse. By way of archival recordings, Walt himself voices Mickey. The cartoon is surprising and fantastic. Welcome back to the big screen, old pal. You too, Uncle Walt.
• Stay in your seats after the credits. There's a little treat at the end.
1 No, really, it's extremely Scandinavian. I no longer have any objection to Frozen's presence in the Norway Pavilion at Epcot (but I'll want my Stave Church back eventually). [POST-PUBLICATION EDIT: This footnote is a reference only to the Frozen exhibit inside the Norway Pavilion's Stave Church and should not be construed as an endorsement for the much-rumored-but-unconfirmed overlay that may or may not be applied to the Maelstrom attraction in the future.]
For more of Aaron's thoughts on Disney films — and their connections to theme parks (and much more) — be sure to check out his brand-new book, The Thinking Fan's Guide to Walt Disney World: Magic Kingdom.