By Aaron Wallace
The conventional wisdom in this weekend's cinematic discourse is that Disney's The Lone Ranger is a bloated, bombastic, and even bigoted train wreck of a film. "You Should Absolutely Not See The Lone Ranger," read the headline on one of the earliest reviews. That's bad advice, I'm afraid, and the movie's bad rep is a bad rap.
As it turns out, The Lone Ranger is surprisingly and delightfully awesome.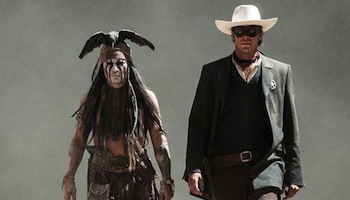 Based on the long-running radio and TV serials of the same name, Lone Ranger is a superhero origin story, one that's been overlooked as studios have focused on caped, comic book-born crusaders instead. But set in the Wild, Wild West and delivered with the sensibilities of both the family adventure film and the western — and not so much those of the comic book movie — The Lone Ranger is a genre-blending blockbuster that rises just above typical popcorn productions.
Here in the same summer that brought us the spectacularly awful Man of Steel is a superhero film that feels inspired, exciting, and fresh. It's the kind of movie that critics should at least applaud, if not advocate. In fact,  I suspect they might… if it weren't for Johnny Depp.
Depp is not only a white man playing an iconic Native American character (Tonto, the title character's witty sidekick) but he's also starring in his sixth  big-budget Disney film in the last ten years. "Disney must surely have churned out another Jack Sparrow-ish flick in the hopes of building a new theme park ride," reasons the mind of many a critic upon first seeing the trailer. "It most certainly won't be good."
And on top of that — a person of one race playing someone of another race? That just can't be in 2013. We're too enlightened for that. Enlightenment apparently dictates that each race must stick to his or her own. Go figure.
The truth is that Hollywood has far too few starring roles to offer minority actors, Native American or otherwise, and the Tonto part could have gone to a "real" Native American instead (never mind that by his own account, Depp is of Native American ancestry). But it's also true that Johnny Depp is one of the best character actors working in the business today, and his performance as Tonto is a nonstop scene stealer. It's hard to object to casting that fits the bill so perfectly on every ground except where DNA is concerned. (If anything, the movie's sometimes-brazen "othering" of Native Americans as laughable mystics is far more objectionable than Depp's impressive face paint.)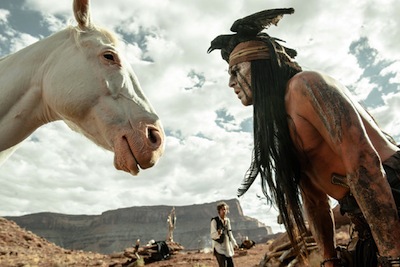 It's also true that Johnny Depp teaming with Jerry Bruckheimer, Disney, and the Pirates of the Caribbean crew has become about as predictable as… Johnny Depp partnering with Tim Burton and Helena Bonham Carter (the latter also turns up in The Lone Ranger). But as eye-rolling as Disney's Iger-bred franchising mentality is — and as disappointing as Pirates of the Caribbean: On Stranger Tides turned out to be — it's still possible for a big-budget Johnny Depp family film to be great.
The Lone Ranger may not quite qualify as "great," but it comes close with an engrossing adventure story, excellent acting, winning humor, exquisite cinematography, captivating scoring, and some of the best action we've seen since Dead Man's Chest. Copious action is rarely an asset for praise, but the Pirates team has once again composed impressive stunt-choreography that thrills the audience with character-defining sleight of hand. Here, unlike in Man of Steel and its ilk, the action largely contributes to the story and challenges the viewer to keep with the program rather than "check out" for bouts of mindless spectacle.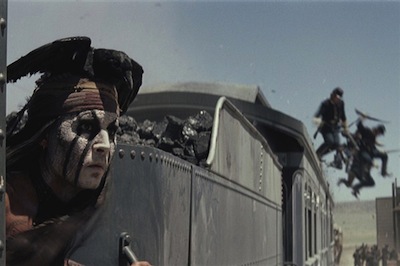 Of course, as a product of the Pirates filmmakers, The Lone Ranger is not without its flaws. Helena Bonham Carter's character is entirely superfluous, for one thing. There's also a flashback framework that doesn't quite work. That narrative device does lend the story a sense of legacy, reminding us that The Lone Ranger is a character of some cultural importance, and also intriguingly calls into question whether Tonto's recounting of the whole story is even credible. But on the other, the flashback/flash-forward structure only serves to pull us out of the principal narrative each and every time, and the scenes in which a young boy converses with an aging Tonto come off as corny.
But even more problematic is the film's disregard for its audience's ability to keep up with the finer points of the story. This is a vice common among all four Pirates films, too. The filmmakers tend to rush through extensive exposition amidst frantic action sequences, and unless viewers are watching with closed-captioning, they'll be hard-pressed to keep up on the first viewing. I believe the intent is to make the narrative, which is only moderately complex, seem much more intricate than it really is, creating a kind of manufactured thrill for the audience. When there's so much story to keep up with, viewers cling to the edge of their seats. The only problem is that there really isn't all that much narrative after all. More ethical storytelling would keep the audience on the same page.
Nevertheless, The Lone Ranger is a fun, engaging, and rewarding adventure tale that manages to breeze by, even with its enormous two-and-a-half-hour runtime.
As a story about outcasts and heroes who are misunderstood, perhaps it's fitting that The Lone Ranger is destined for relative box office failure and undeserved critical malign. Don't let the Rotten Tomatoes score fool you, though. This one's worth seeing.
• For more of Aaron's thoughts on Disney, be sure to check out the brand-new book, The Thinking Fan's Guide to Walt Disney World: Magic Kingdom.