The Intrepid Traveler and LaughingPlace.com are proud to announce that author Aaron Wallace will appear live at the official D23 Expo 2015 in Anaheim, CA, where fans will have exclusive first access to The Thinking Fan's Guide to Walt Disney World: Magic Kingdom — 2nd Edition. The Expo takes place at the Anaheim Convention Center from August 14 – 16, 2015.
Appearance times below the jump.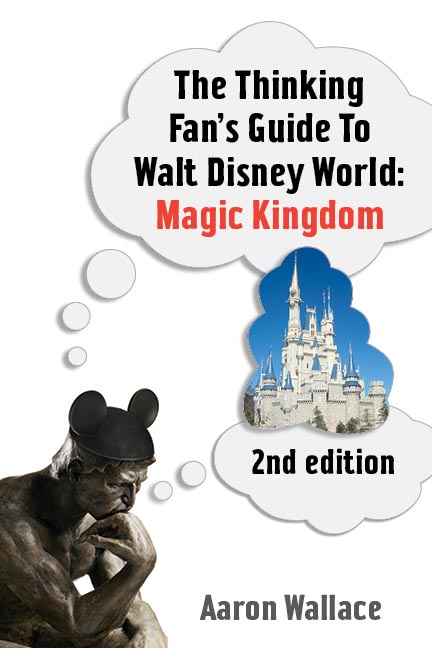 Wallace will appear at the D23 Expo as a special guest of LaughingPlace.com, one of the web's leading and most widely respected sources for Disney-related news and entertainment. The Laughing Place booth will be located inside the D23 Emporium on the first floor of the Expo Hall (booth #c2004). There, fans can find great new merchandise, giveaway opportunities, meet-and-greets, and more. Available at the same booth, Thinking Fan's readers can also pick up a signed copy of Kyle Burbank's new book, The E-Ticket Life: Stories, Essays, and Lessons Learned from My Decidedly Disney Travels (featuring a foreword by Aaron Wallace!).
Wallace will make special signing and meet-and-greet appearances at the Laughing Place booth throughout the expo. Currently, the schedule for those appearances is as follows:
Friday 8/14:
1 p.m. – 2 p.m.
Saturday 8/15:
9:30 a.m. – 10:15 a.m.
12:30 p.m. – 1:15 p.m.
4:45 p.m. – 5:30 p.m.
Sunday 8/16:
2: 30 p.m. – 3:30 p.m.
Last Call:
5:45 p.m. – 7:00 p.m.
Appearance times may change without notice
Additionally, the book will be available at the LaughingPlace.com booth (#c2004) during the entirety of the D23 Expo 2015, while supplies last. Fans who buy the book outside of Wallace's scheduled appearance times can return later with their purchased copy for an autograph. 
Please visit this webpage or follow @aaronspod, @ETicketLife, and @Laughing_Place on Twitter as the Expo approaches — and throughout the event itself — for a specific appearance schedule, special offers, and more.
The Thinking Fan's Guide is a first-of-its-kind book that looks at the Magic Kingdom experience in a whole new light. Originally released in April 2013, the book treats each and every Magic Kingdom attraction to a full-length analysis, offering both newcomers and diehard Disney fans an all-new perspective on the attractions they love (or sometimes hate). It's fascinating, informative, and often hilarious. Just read the rave reviews for the bestselling first edition.
Newly updated and expanded, the 2nd Edition looks at all of the latest additions to Magic Kingdom. Among them are Seven Dwarfs Mine Train, Under the Sea ~ Journey of the Little Mermaid, Enchanted Tales with Belle, Disney Festival of Fantasy Parade, and Main Street Electrical Parade. Along the way, Wallace takes an even closer look at many of the existing attractions in light of Disney's new storytelling style over the last few years. The result is an in-depth and intriguing book that even previous readers will find newly enthralling.