By Aaron Wallace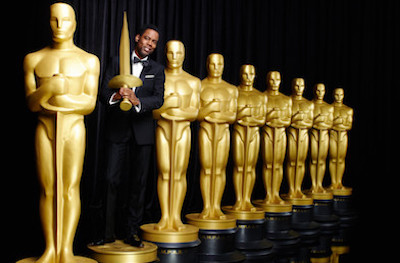 Let's look at each Best Picture nominee and then move on to the ballot. (Warning: some spoilers for The Revenant and Star Wars: The Force Awakens are contained herein.)
The Best Picture Nominees: Ranked & Reviewed
8. Mad Max: Fury Road
Presumably nominated by the same people who keep Dwayne Johnson employed, Mad Max is the cinematic equivalent of an "ask your doctor about Low T" campaign. The critical consensus — that this is some rare and admirable achievement — has me hiking up a Fury Road all my own. Far from a laudable anomaly in the world of "mindless action," Mad Max is exemplary of its schlocky ilk. If this is the best picture, Red Bull is the best beverage. I can only assume that its nod for Hollywood's highest honor is part of some Oscar for Schmucks scheme, and that Chris Rock is at this very moment hatching the last of an elaborate lampoon. Otherwise, its nomination for anything outside the technical categories is a misfire, and its inclusion in the Best Picture race an outright scandal.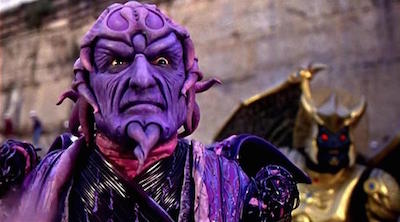 7. The Big Short
Big on condescension and short on context, this isn't the brilliant recap of recent history that Adam McKay bullies us to buy. The fourth wall exists to be broken, but for the sake of challenging convention, adding new insight, or at least achieving something clever. To shatter it again and again, with reckless abandon, only to pedantically recount events that anyone old enough to see this film has already witnessed first hand — a mere presidency ago — is to abuse the privilege. It's not as if the dialogue foregoes exposition as a tradeoff, nor does the movie manage to paint a whole picture of one of the great coups in American history. Congressional and presidential accountability is an afterthought here, if it's a thought at all. The Oscar crowd wants to embrace The Big Short as brave, but McKay's so-called courage is but a costume for tired, patronizing platitudes about greed.
6. The Revenant
The Revenant is essentially a metaphor for DiCaprio's epic lifetime of Oscar upsets. The bear attack is Titanic. The wide-eyed smothering is Catch Me If You Can. The fall off the cliff is The Aviator. And just like this year's race, we all know who wins the battle in the end.
At long last, Hollywood has found a series of events that Home Alone 2's Sticky Bandits might not have survived — a series so unfortunate that even an especially morose Lemony Snicket might snicker at them. I winced during the first few. Later, I laughed. It's the world's most beautifully shot, most masterfully acted live-action cartoon.
How I remember 'The Revenant,' basically. (Beginning at 9:30.)

5. The Martian
The Martian is less stellar than Interstellar and lighter than Gravity, but as I recently mentioned to a friend, it's still the most fun I've had saving Matt Damon. The story compels, its ideas inspire, and the effects impress. Still, as the slightest of the three movies mentioned here, I'm not sure this Ridley Scott-helmed crowd-pleaser deserves a nod among Best Picture nominees.
4. Room
Ranking among the most emotionally challenging viewing experiences I can remember, Room is tough to watch. It's exquisitely executed, though, particularly in its first half. The second act isn't as deep or gripping, but it's also the first time our chests open wide enough to breathe, gasping as we are for some restored faith for the world.
3. Bridge of Spies
Tom Hanks and Steven Spielberg somehow make dingy American holding cells and bleak Soviet landscapes pleasant places to be in. What a marvelous screenplay, with truly award-worthy performances to flesh it out.
James B. Donovan makes for one of the great attorney roles. Between Hanks' hat tricks here and Melissa McCarthy's more-than-meets-the-eye Spy, 2015 was a great year for silver-screen espionage.
2. Spotlight
Simply put, the best investigative crime drama since Zodiac, and about as important a movie as one could make. Entertaining, enlightening, and challenging, it's earned some time in its title.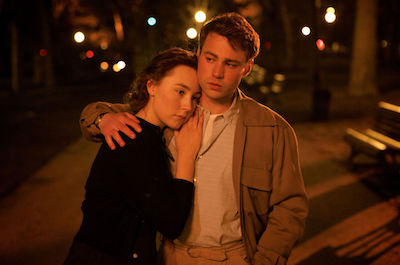 1. Brooklyn
Sweeping and glorious, Brooklyn opens your heart and leaves a new love for great storytelling inside. It is one of those rare films that inspires exhilaration simply for what movies can be.
Into the Shoulds
I created this category after Into the Woods was snubbed, but the name still fits, so I'm keeping it (tempted as I was by "These Aren't the Noms You're Looking For").
Star Wars: The Force Awakens is the best picture of the year. I didn't expect a nomination, mind you, but when you look at what made it, let's just say meesa confussa. Max Mad: Fury Road deserves a Best Picture nom like Han Solo deserves surprise patricide.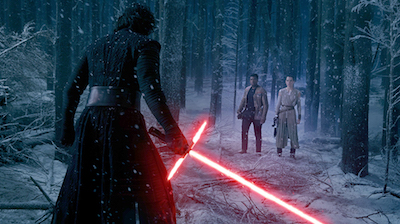 Anomalisa is a profound achievement in animation — astoundingly human in the way Walt's and Pixar's best films have been (but earning every ounce of its R rating).
Joy, The Good Dinosaur, and Spy would've made worthy Best Picture nominees too, though perhaps not winners. For the lattermost, Melissa McCarthy earned recognition in the Best Actress category and should have had it.
Tom Hanks  (Bridge of Spies) and Jacob Tremblay (Room) are missing among the candidates for Best Actor. And while I wasn't won over by The Big Short, Steve Carell's performance is worthy in the Supporting Actor race too.
Steve Jobs for score, with music by Daniel Pemberton. See also: Star Wars.
Brooklyn needed a lot more love all around. I'm surprised voters aren't praising it from the top of Hollywood & Highland.
My list would undoubtedly have been longer if my viewing log had been too, but the short season got to me this year (a lengthy trip away from home in the middle didn't help). Notably, I expect that my friend Chris Bergoch's Tangerine, widely acclaimed as it is, will eventually appear here too, though I've shamefully yet to see it.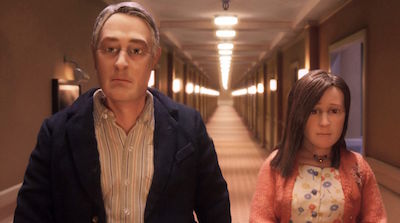 The Ballot
The first item (before the slash) is my personal preference among those nominated in each category. The second item (after the slash) is my prediction for what will actually win. In 2014, I correctly picked 20 out of 24. Last year, only 16. 2016 is going to be especially tough, given the splits we've seen among so many awards shows leading up to Oscar Night. And I'm starting off with a "no guts, no glory" Best Picture prediction that everyone says should be wrong. In fact, my best prediction might be that this will be my least accurate ballot yet. Here goes nothin'…
Update: 15 right, 9 wrong. Just as expected, I suppose! 
* = I did not see enough films in this category to weigh in with personal preference.

Picture: Brooklyn / The Big Short
Actor: DiCaprio (The Revenant) / DiCaprio (The Revenant)
Actress: Jennifer Lawrence (Joy) or Brie Larson (Room) / Brie Larson (Room)
Supporting Actor: Mark Ruffalo (Spotlight) / Sylvester Stallone (Creed)
Supporting Actress: * / Alicia Vikander (The Danish Girl)
Directing: Tom McCarthy (Spotlight) / George Miller (Mad Max: Fury Road)
Original Screenplay: Bridge of Spies or Spotlight / Spotlight
Adapted Screenplay: Brooklyn / The Big Short
Film Editing: Star Wars: The Force Awakens / Mad Max: Fury Road
Animated Feature: Anomalisa / Inside Out
Foreign Language: * / Son of Saul
Documentary Feature: * / Amy
Visual Effects: Star Wars: The Force Awakens / Star Wars: The Force Awakens
Cinematography: * / The Revenant
Production Design: The Martian / Mad Max: Fury Road
Costume Design: Cinderella / Mad Max: Fury Road
Makeup & Hairstyling: The Revenant / Mad Max: Fury Road
Original Song: "Writing on the Wall" (Spectre) / "Til It Happens to You" (Lady Gaga)
Original Score: * / Ennio Morricone (The Hateful Eight)
Sound Editing: Star Wars: The Force Awakens / Mad Max: Fury Road
Sound Mixing: Star Wars: The Force Awakens / The Revenant
Animated Short: * / Sanjay's Super Team
Live-Action Short: * / Shok
Documentary Short: * / Body Team 12
The 88th Annual Academy Awards air live this Sunday, February 28, at 8:30 p.m Eastern Time (5:30 Pacific) on ABC. Visit the official Oscar website 
here
 and get your own ballot!
---
For more on the Best of 2015, check out my ranking (and reviews) for the Top 30 Songs of the 2015.