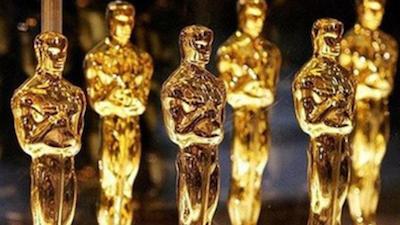 By Aaron Wallace
2013's film crop left me less enthusiastic than 2012's. Nevertheless, I've seen nearly all the Oscar nominees, including the nine vying for Best Picture. That means it's time to share my picks and predictions.
Below, for each Oscar category, you'll find both the movie I think will win and the movie(s) I want to win. Along the way, in a hastily written article, I'll tell you why.
Even though I can't profess to be particularly passionate about this year's Oscar race, predictions are always fun… so grab yourself a ballot and follow along!
Update: Final Tally — 20 right; 4 wrong
Best Picture
My Prediction
If the awards season to date is any indication — and it usually is — 12 Years a Slave is the almost-certain winner. It's a fine film and an important one but also dissatisfying in some respects. Nevertheless, 12 would improve over last year's victor.
If there's an upset (slim chance), it'll be American Hustle or Gravity.
My Choice
Her tops my list for 2013. It's considerably more inspired than most of the films it's up against and a clear bright spot in an otherwise underwhelming-ish year. Incidentally, I rank the Best Picture nominees as follows:
9. American Hustle
8. Captain Phillips
7. 12 Years a Slave
6. Nebraska
5. Philomena 
4. The Wolf of Wall Street
3. Dallas Buyers Club
2. Gravity
1. Her
I'd have nominated Saving Mr. Banks, The Hunger Games: Catching Fire, and August: Osage County over Hustle, Phillips, and Slave (and maybe have thrown in Frozen for a Top 10).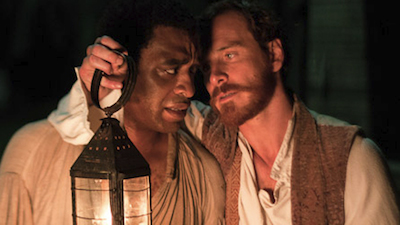 12 Years a Slave  (2013, Fox Searchlight Pictures)
Best Actor
My Prediction
The Academy has every reason to reward Matthew McConaughey. He's fantastic in Dallas Buyers Club, arguably the crown jewel in his recent renaissance. The fact that he lost an astounding amount of weight for it probably shouldn't factor in, but it will (and will help).
My Choice
While it's disappointing that Joaquin Phoenix wasn't at least nominated, I'm with the masses on this one: Matthew McConaughey should get the gold. That said, I wouldn't mind if poor Leo finally picked up a win either.
Best Actress
My Prediction
Cate Blanchett is the odds-on favorite to win, but I'm going to deviate from the norm and predict Sandra Bullock… partly because the tidal wave of industry ire against Woody Allen revived just in time to sway voters against Blue Jasmine and partly because I can't imagine that so many voters could be considerably less impressed by Bullock's magnificent performance than Blanchett's unlikeable one.
My Choice
As angry as I am about her unwarranted and factually indefensible comments about Walt Disney during the voting season, Meryl Streep was simply amazing in August: Osage County. She won't get the award, of course, because she just got one for The Iron Lady (that shouldn't matter, but it does). That said, I'd be equally thrilled to see Sandra Bullock or even Judi Dench win.
As for the nominees, I'd have substituted Emma Thompson (Saving Mr. Banks) and Jennifer Lawrence (Catching Fire) for Amy Adams and Cate Blanchett. And how amazing would it have been had Scarlett Johansson been recognized for her voice-only performance in Her?
Sandra Bullock in Gravity (2013, Warner Bros.)
Best Supporting Actor
My Prediction
Jared Leto will win for the same reasons as Matthew McConaughey: great movie, great performance, political relevance, and physical transformation.
My Choice
Jared Leto, though I wish Donald Sutherland or especially Philip Seymour Hoffman were recognized for Catching Fire.
Best Supporting Actress
My Prediction
Lupita Nyong'o. She's the actor most likely to add to 12's overall tally, having enjoyed a long season of ever-building newcomer buzz.
My Choice
June Squibb was easily my favorite part of Nebraska. Julia Roberts in August would make a fine winner too.
Best Director
My Prediction
Alfonso Cuarón for Gravity. A nice consolation prize for a movie once considered a frontrunner in the Best Picture race.
My Choice
Alfonso Cuarón totally deserves it, but let me again lament Her's absence among the nominees.
Best Animated Feature
My Prediction
Frozen. This is a more competitive category than the nation's current Frozen frenzy might suggest. The Croods and Despicable Me 2 were both embraced by critics and the box office alike, Miyazaki (The Wind Rises) is highly respected, and I'd never fully count out a foreign animated film. But Frozen is clearly the best bet.
My Choice
Frozen, of course. It's the Disney movie we've waited nineteen years for and WDAS' finest film since this category was created. (Incredibly, a non-Pixar Disney film has never won!) It's only fitting that this trend-bucking princess film be the one to claim Disney's rightful crown. For more, read my full Frozen movie review.
Miscellaneous notes: Monsters University probably deserved a nomination, but it wouldn't have won and I'm happy it wasn't around to split the Disney vote against Frozen. Technically, The Wind Rises is Disney-distributed too, but that's unlikely to factor into voters' rationales.
Best Original Screenplay
My Prediction
American Hustle. I don't understand the fascination with this film, which I found to be proficiently shot and acted but otherwise overlong, derivative, reductive, and excessively reliant on exposition. Screenplay's probably the last place I'd nominate it. But the award community disagrees, and with its Best Picture prospects seemingly diminished — and with Cuaron's lock on Director — Hustle's likely to get some love here. 

My Choice
I'd be ecstatic if Her won. It's brilliant, challenging, forward-thinking, inspiring, and deep. This category will likely represent my biggest disappointment of the night. (And Saving Mr. Banks' absence is already disappointing enough.)

Best Adapted Screenplay
My Prediction
12 Years a Slave, a film that is held back by its screenplay (among other things) but will nonetheless likely be recognized for it.
My Choice
Among the nominated, Philomena or The Wolf of Wall Street. (I haven't yet seen Before Midnight.)
Best Original Score
My Prediction
Gravity. Because in space no one can hear you sing.
My Choice
Saving Mr. Banks. The score is beautiful and the movie deserves at least a little love from the Oscars. (See my full Saving Mr. Banks movie review.)
Best Original Song
My Prediction
"Let It Go" from Frozen. I'm a little worried here. U2's "Ordinary Love" (from Mandela: Long Week to Freedom) has been picking up steam in recent weeks, buoyed by the band's star power and an aggressive PR campaign. U2 are awards darlings and the film is a socially conscious one (and comes on the heels of Mandela's death). It has a very good chance of pulling an upset. But "Let It Go" is easily the most popular movie song in many years, and that's bound to have an impact on voters. In fact, I think Idina Menzel — not U2 — is the reason we're getting live musical performances during the TV ceremony again this year. That kind of speaks for itself.
My Choice
"Let It Go." Obviously. For more of my thoughts on the song, here's an excerpt from my Top 30 Songs of 2013, in which "Let It Go" placed at #3:
Conspicuously similar to Menzel's "Defying Gravity" but just as good (and that's saying something), Frozen's flagship showstopper stands among the very best in contemporary showtunedom. Menzel is an absolute powerhouse, belting her declaration of self-liberation with the dramatic intensity of a Category 5 snowstorm. Writers Robert and Kristen Anderson-Lopez take a decidedly poppy approach to the song, mirroring Stephen Schwartz's style in Wicked, without compromising the from-floor-to-stratosphere dynamism of the Broadway stage. Their songwriting astounds. "My power flurries through the air into the ground," Menzel sings in one of several clever ice puns… "My soul is spiraling in frozen fractals all around." The phrase "frozen fractals" alone deserves some kind of award. Soaring, inspiring, and endlessly repeatable, it's the kind of animated Disney song we've waited a long time for.
Best Cinematography
My Prediction
Gravity. A weird win for a largely CGI-generated film that takes place in space. Go figure. To the extent that cinematography applies, at least, Gravity does an outstanding job with it.
My Choice
What a weird group of nominees. Among them, I suppose Gravity is fine with me, but I'd have nominated: Her, American Hustle, The Wolf of Wall Street, Dallas Buyers Club, and Saving Mr. Banks — in that order.
Best Production Design
My Prediction
A movie deserving of technical recognition and not much else, The Great Gatsby has glitz, glamor, and grandeur in bulk supply, which should grab it a win.
My Choice
The Great Gatsby, I guess.
Best Visual Effects
My Prediction
Gravity. Duh.
My Choice
Gravity. Duh.
(Honorable mention for Star Trek Into Darkness.)
Best Costume Design
My Prediction
Critical consensus here is The Great Gatsby or American Hustle,  but I'm making a "no guts, no glory" prediction for 12 Years a Slave.
My Choice
Of those nominated,  The Great Gatsby should probably win, but I might have opted for The Lone Ranger or The Hunger Games: Catching Fire instead.
Best Makeup & Hairstyling
My Prediction
Dallas Buyers Club because of Jared Leto in drag.
My Choice
The Lone Ranger stands out among the nominees, and it's a shame it wasn't taken more seriously this year (see my full The Lone Ranger movie review for more). Others deserving (but denied) nominations include American Hustle,  August: Osage County, The Hunger Games: Catching Fire, and maybe The Incredible Burt Wonderstone. Shoutout to Tom Hanks' Waltstache too.
Best Documentary Feature
My Prediction
20 Feet from Stardom. I'm pleasantly surprised by all the attention and buzz this one's conjured up. The Act of Killing looked certain to win for a long time, but not anymore.
My Choice
20 Feet from Stardom is excellent, and I highly recommend it. But Whoopi Goldberg Presents Moms Mabley absolutely should have appeared among the five (and then won).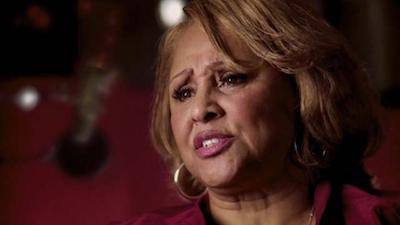 20 Feet From Stardom (2013, The Weinstein Company)
Best Film Editing
My Prediction
Captain Phillips is the favorite to win and it would deserve it, but I'm predicting Gravity instead.
My Choice
Captain Phillips or Gravity.
Best Sound Editing
My Prediction
Gravity. It has a largely quiescent sound field, but then there's something to be said for that. This is a technical award — voted on by a specific branch of voters, comprised of experts in the field — so it's hard to say what they'll go for. But Gravity's sound experience is more impactful than perhaps in any other film this year.
My Choice
Captain Phillips or Gravity, though Star Trek Into Darkness, The Hunger Games: Catching Fire, This is The End, Frozen, and Her would have made great nominees too.
Best Sound Mixing
My Prediction
Gravity, for the same reason as in Sound Editing.
My Choice
Captain Phillips or Gravity. (And refer to my list under Sound Editing for other films that would've made great nominees.) 

Best Foreign Language Film
My Prediction
The Great Beauty. For only the second time in many years, I didn't have a chance to see any of the Foreign Language nominees this year. The Great Beauty is the apparent favorite, so I'll go with the crowd.
My Choice
No pick here (see above).
Best Documentary Short Subject
My Prediction
Taking everyone else's word for it, I'll go with The Lady in Number 6: Music Saved My Life.
My Choice
The Documentary Shorts are far and away the hardest nominees to see in time for the Oscars… just about impossible if you're not part of the documentary-focused groups supplied with screeners. I've managed to catch a couple in years past, but no such luck this time around.
Best Live-Action Short Film
My Prediction
Helium.
My Choice
I'm usually well-versed enough in the nominees to assess, rank, and predict this category… but not this year. Your guess is as good as mine.
Best Animated Short Film
My Prediction
Get a Horse!.
My Choice
I'll be very happy and proud if WDAS snags three Oscars this year, including Get a Horse!, a delightful short that doesn't quite live up to last year's Paperman but nevertheless stands out as one of the best in recent years. To date, Walt Disney (the man) has more Oscars than anyone who's ever lived. He won't technically get another to his credit if Get a Horse! wins, but it'll be gratifying to know that his voice is part of its cast.
• See Also: My picks for the 30 Best Music Singles of 2013
• See Also: The Thinking Fan's Guide to Walt Disney World: Magic Kingdom by Aaron Wallace
  The 86th Annual Academy Awards air live this Sunday, March 2, at 8:30 p.m Eastern Time (5:30 Pacific) on ABC. Visit the official Oscar website 
here
.