"The Golden Girls" just hit Hulu in all their silly, oversexed, shade-throwing glory, so most decent Americans have already devoted the whole week to reliving the full seven-season run. But there may be some poor unfortunate souls out there who haven't gotten the "Golden" touch yet.
To that end, here are fourteen episodes to take you "down the road and back again" — just in time for Valentine's Day!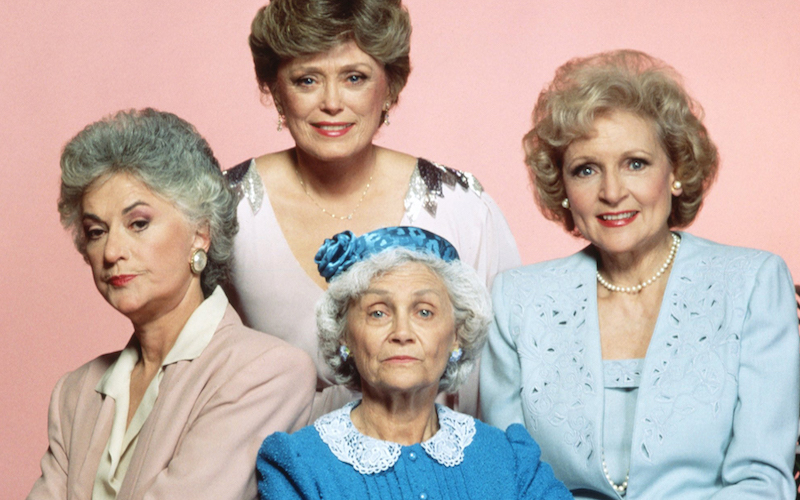 14. "Journey to the Center of Attention" (Season 7, 1992)
…Because there's no better way to start "The Golden Girls" than an episode in which Bea Arthur sings. When Dorothy steals the spotlight at a lewd, local bar (The Rusty Anchor), Blanche is green with envy… and red with sequins.
13. "The Case of the Libertine Bell" (Season 7, 1991)
It's not to be confused with the Liberty Belle, but it is a little bit Haunted Mansion. The girls attend a murder mystery dinner, where (wouldn't you know it?) someone really kicks the bucket. Blanche is fingered for the crime, but it's Dorothy and Sophia's double-crossing that's really to die for.

12. "Piece of Cake" (Season 2, 1987)
The girls look back at birthdays past, but the gift is all ours when Rose accidentally takes Dorothy to a kids' clown party. I've lived my whole life hoping in vain for a birthday this spectacular.
11. "Two Rode Together" (Season 4, 1989)
What's better than "The Golden Girls" in Miami? "The Golden Girls" in Walt Disney World! Dorothy takes Sophia for some quality mother-daughter time, but the only thing this octogenarian wants to bond with is Space Mountain! I feel you, Sophia. We all feel you.
10. "The Flu" (aka "Flu Attack") (Season 1, 1986)
A bout of influenza brings out the worst in the girls. And by the worst, I mean the best.
9. "To Catch a Neighbor" (Season 2, 1987)
Next-door neighbors are up to no good, so the cops move in for an undercover stakeout… and one of those cops is George Clooney. All Hollywood experts agree the weakest Batman movie might have been even worse had this episode never aired!
8. "Henny Penny — Straight, No Chaser"
In an "I Love Lucy"-ian escapade, the kids in a school play fall ill, so our four favorite roommates are called to take their place.
7. "A Little Romance" (Season 1, 1985)
Rose's new boyfriend is a little person, and her gal pals are very 1985 about the whole thing. It's Rose's reaction to their taunting, though, that makes this an essential intro to our favorite St. Olafian.
6. "Ladies of the Evening" (Season 1, 1986)
The ladies head out for some fun in the sun but get mistaken for prostitutes (because let's face it, it's Miami Beach) and are dragged to jail. Golden is the old black.
5. "Big Daddy's Little Lady" (Season 2, 1986)
Three words: "Miami is nice." Watch it once (or thrice), and you'll forever understand your friends' references.
4. "One for the Money" (Season 3, 1987)
At some point in any "Golden Girls" marathon, you will need to meet the young versions of Dorothy and Sophia. They're recurring throughout the series, and this is as good an intro as any.
3. "My Brother, My Father" (Season 3, 1988)
You'll also need to meet Dorothy's ex-husband, Stan, the face of a thousand door slams. She can't stand him and neither can her mother, but when Sicilian clergy come to town, they have to pretend they're still married and in love.
2. "Old Friends" (Season 3, 1987)
Petty theft, teddy bear abuse, Girl Scout blackmail schemes… this episode truly has it all.
1. "A Midwinter Night's Dream" (Season 7, 1992)
In what is almost certainly the greatest "Golden Girls" episode of all time, Blanche throws an all-male "moonlight madness" party while Sophia attempts to reverse a witch's hex on Dorothy. I mean… that description. How could you not watch?
Welcome to the wonderful world of television's greatest sitcom. You're now part of a party where the biggest gift is always for you.
Check out "The Golden Girls" on Hulu or Disney DVD! And once you've caught up, read my proposal for an episode of The Golden Girls go to Walt Disney World.