The list continues with the numbers 15 through 1 below. Click here to return to #30 – 16.
15. Brandy – "Magic"
Coldplay's "Magic" was perfectly fine. But then Brandy came along from wherever Brandy's been the last ten years and dropped this entirely unsolicited cover on the web like it never occurred to her that she isn't the most relevant recording artist of 2014. Cool points.
Ms. Moesha tracks the original's arrangement almost to a T, but her ethereally tufted timbre lives in precisely the same groove as the song's composition. Play it once and Coldplay vanishes, just like magic.
14. Barbra Streisand & John Mayer – "Come Rain or Come Shine"

Aging though her voice may be, Streisand is in fine form here, eschewing her usual mopey tendencies. But it's Mayer who makes it. With his jazzy guitar licks and croons, this old chestnut becomes a bluesy slow-burner. We're talking Continuum quality. And if you can get past the uncomfortable imagery of a romantic affair between these two, the harmony is oh so very nice. The song's real testament, though, is that it leaves us wanting more — namely, a solo standards album from John Mayer ASAP.
13. Arctic Monkeys – "Snap Out of It"

Arctic Monkeys continue to carve delicious hooks out of smartly written garage rock. The song's about a trance and sounds like one too. It's maybe less clever than some of their others, but there is a tight turn of phrase: "If that watch don't continue to swing, or the fat lady fancies having a sing, I'll be here waiting ever so patiently…"
12. The Kooks – "Around Town"
Graphic Video

The best of several strong singles from a departure album, "Around Town" is strikingly cinematic, which I suppose explains the French-ish Pulp Fiction video. "I want someone to drive around town" is a pretty simple request for such an epic production, but the choral drama suggests an underlying crisis of loneliness.
11. The 1975 – "Girls"
Explicit

They may be The 1975 but "Girls" sounds more '85, with family-values lyrics to boot… kind of. There's a naughtiness to the exploit here, but the song ultimately (and admirably) sides with personal responsibility and respect in sexuality. Musically, it's a beautiful blend of keyboards and pure-pop electric guitar. Like I said, '85.
10. Bleachers – "I Wanna Get Better"

Composed like a jumpcut, the song is an anthemic nervous breakdown — the kind of thing fun. does very well. (Bleachers is the one-man-band alter ego for fun.'s Jack Antonoff.) "Better" is a lot further off the edge than fun. ever goes — fitting for the band's seemingly weirdest member. Just watch him composing the song off the cuff. Dude's a genius. The song's drive-ready rhythm is underscored by a lyrical motif of transportation. Thematically, it's like fun.'s best stuff — struggling but optimistic. In other words, relatable, even if a little dark.
9. The Griswolds – "Beware the Dog"
Explicit


Incredibly fun songs like this one often harbor depressing lyrics, a contrast that doesn't become clear until we finally sit down and read what we've been singing along to for months. "Beware the Dog" is about a friend's death at the hands of addiction, but its lyrics are universal enough to translate to any old monkey on the back – even an ex. Indeed, I suspect that's how most will read it, and that makes the chorus's giant middle finger a soaring spirit-lifter.
8. One Direction – "Steal My Girl"

One Direction dancing in the desert with Danny DeVito is the weirdest thing to happen in a music video since Miley Cyrus strapped on a teddy bear and downed a bowl of Twerki-O's — but in terms of unfettered pop, at least, "Steal My Girl" is the best song ever… or something like that. Funny it's about theft, given the brazen lifting of Journey's "Faithfully" at the beginning, but then the rest of 2014 was just one big '80s pastiche too. Rousing and unfailingly repeatable, it's another home run for 1D.
7. Rufus Wainwright – "Me and Liza"

The only thing better than a celebrity feud is a song by the celebrities about their feud. "Me and Liza" is the rare cut to actually call out the other by name. But Wainwright takes it one step further, treating Liza Minnelli to psychoanalysis and examining the whole notion of a relationship forged in the framework of fame.
Minnelli and Wainwright have a pretty fascinating history. They're both the children of famous singers, but a generation apart from another. Minnelli grew up with Wainwright's dad, who actually recorded a song about his crush on her. Years later, Rufus grew up to become the world's biggest Judy Garland fan, staging tribute shows and covering one of her albums in its entirety. Minnelli has been less than impressed, to say the least.
"Let's just say it's about legend and arson," Wainwright said of the song. It's smart, cheeky, and alluringly melodic, just as we've come to expect from him.
6. Big Data, feat. Joywave – "Dangerous"

"Dangerous" sounds as paranoid as it reads. From what I understand, Big Data essentially exist to gripe about social-media creepiness and the NSA. The song slinks around with a creepy beat, but it's hardly a whisper — more of a rage against the machine, really. The recurring four-clap beat is to spy for.
Like a hard-rock Radiohead in a tinfoil hat, Big Data frantically warn us that Big Brother is watching. They at least have a sense of humor about it, observing how dotingly the NSA watches you and quipping, "I bet you didn't know someone could love you this much." Well I love this song at least as much as the government loves your Snapchat.
5. Bette Midler – "Waterfalls"

It was the year's unlikeliest cover and probably its buzziest. Sites like Buzzfeed couldn't get past the irony, of course. Early-90s icon Bette Midler singing an iconic early-90s song!? Go figure.
TLC's original is so 1990s that it might as well have been recorded on a Talkboy, but the lyrics are gripping and important. Midler manages to strip it down to its basic beauty, using a bongo of all things. Between that, the piano, and her smoky vocal, it's somehow more arresting than in the first go-round. Timeless lyrics can now live on in a timeless production. It isn't simply a cover; it is interpretation.
Midler doesn't rap, I'm afraid, but then that's a waterfall she probably shouldn't chase.
4. A Great Big World – "Rockstar"

A Great Big World are the suburbs Ben Folds is rockin'.
"Rockstar" is about aspiring to hit it big someday, dreamier and more uplifting than Folds' satire, but cut from the same indie-uttered, piano-pounding cloth. Both songs contemplate stardom, but World stand on the side of optimism: "I'm learning anything is possible now."
The two-part harmonies, the airy "ah, ha, ha"s, the "take a ticket" alliteration, the confident percussion, the Journey riffs, the pretty piano that repeatedly explodes into grinding guitar… this song is quite a piece of production. Like the song says, they were born to be rockstars. Maybe if "Glee" keeps covering them, they'll get there.
3. Michael Jackson – "Love Never Felt So Good"

Michael Jackson entered the solo scene with one command: don't stop 'til you get enough. Thirty-five years later, we still haven't. It's a testament to his timeless and unmatchable artistry that a clearly late-70s/early-80s song plays so well in 2014. Kings do live long, they say.
2. Dolly Parton – "Blue Smoke"

At first glance, it seems like a simple song about a train, but then Dolly tells us that "Blue Smoke is the name of the heartbreak train that I am ridin' in" — a metaphor for leaving her cheater at locomotive speed. In other words, Blue Smoke is the Screw You Choo Choo.
With each "clickety clack," Parton pushes the song along its narrative journey with gusto. The song has the earnest universality of a bluegrass standard, amplified with modern grit and alt-country edge. Phenomenally arranged, it's as spirited as a gospel song and as fun as a mine train coaster. It's fidelity, fury, and Frontierland rolled in one.
I don't know what's harder to believe: that the woman singing this is nearly seventy years old or that the Blue Smoke album marked Parton's first #1 solo on the country chart and her first Top 10 overall.
1. Idina Menzel – "Always Starting Over"
Explicit


Showtunes rarely work as singles. They're simply too context-laden and of-a-palette. There are exceptions, though, and Idina Menzel has had two in as many years. "Let It Go" was my #3 pick last year and, in retrospect, probably should have been higher than that. Now comes "Always Starting Over," the showstopper from Broadway's If/Then.
While I'm sure the play informs its audience's understanding of the lyrics, it isn't necessary to see a second of the show to engage with the song. (I haven't.) For that matter, the poetry here is a lot more salient and discernible than many critics' top picks from the indie scene each year. Divorced from the show, she's singing to the same anonymous "you" as a thousand love songs before her.
Resonant and insightful, the song waxes philosophical about choice, regret, and uncertainty. I'm reminded of my top pick from last year, fun., whose lyrics address the same themes with similar complexity. Observing that each day starts out "with the end in doubt," the song ponders whether we can each be the product of our own experiences and yet still be unshackled by those same experiences in deciding to mold a new future. It is thought-provoking, poignant, and literary. The symphonic Celtic pop, meanwhile, builds cleanly and steadily to a triumphant finale worthy of the stage's strongest chops.
Menzel's come under fire for a few flubs as of late. We hear none of that here. She's not just a powerhouse, she's the whole electric plant. She may miss a note on occasion, but then she's always starting over, just like the rest of us.
NEW THIS YEAR: Listen to the Top 30 as a Spotify playlist (#15 is omitted).
Honorable Mentions
(Note: May contain explicit lyrics.)
Order Aaron's book, The Thinking Fan's Guide to Walt Disney World: Magic Kingdom, on Amazon now!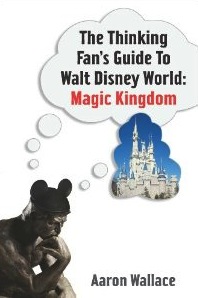 See Also: The 30 Best Singles of 2013 | The 30 Best Singles of 2012 | The 30 Best Singles of 2011 | The 30 Best Singles of 2010 | The 30 Best Singles of 2009 
Other Recent Articles: Let's Move to Disney World Review | Maleficent Review | Saving Mr. Banks Review | Pixar: Ranked & Reviewed
Podcasts: What's It Like to Live in Disney World?  | Disney Music Hall of Fame | Avatarland