Aaron's book, The Thinking Fan's Guide to Walt Disney World: Magic Kingdom, is now available in a brand-new 2nd Edition!
The new book is officially available in bookstores nationwide (and in select countries outside the U.S.) and online everywhere! The paperback can be found on Amazon.com right now — and at a great price!
Disney fans can also order the book from BarnesandNoble.com, BooksAMillion.com, or their favorite book retailer. International readers can order from their country's online Amazon store.
Prefer eBooks? The book is also available for the Amazon Kindle, Barnes & Noble Nook, Apple iBooks (iPad, iPhone, etc.), and a variety of other eBook formats!
The reviews are in and the book is a hit! Find out more about this first-of-its-kind book after the jump.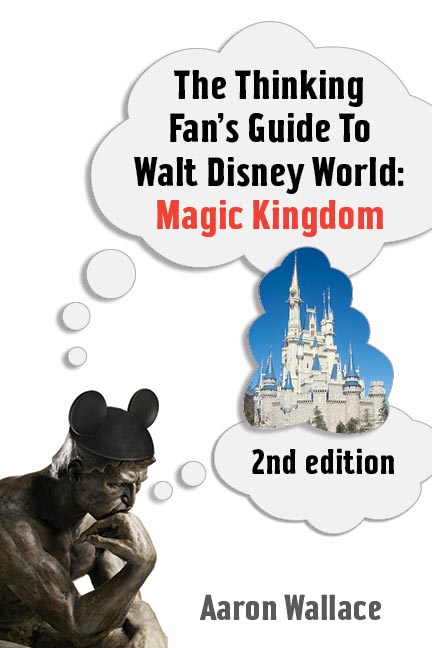 The Thinking Fan's Guide is a first-of-its-kind book that looks at the Magic Kingdom experience in a whole new light. Originally released in April 2013, the book treats each and every Magic Kingdom attraction to a full-length analysis, offering both newcomers and diehard Disney fans an all-new perspective on the attractions they love (or sometimes hate). It's fascinating, informative, and often hilarious. Just read the rave reviews for the bestselling first edition.
Newly updated and expanded, the 2nd Edition looks at all of the latest additions to Magic Kingdom. Among them are Seven Dwarfs Mine Train, Under the Sea ~ Journey of the Little Mermaid, Enchanted Tales with Belle, Disney Festival of Fantasy Parade, and Main Street Electrical Parade. Along the way, Wallace takes an even closer look at many of the existing attractions in light of Disney's new storytelling style over the last few years. The result is an in-depth and intriguing book that even previous readers will find newly enthralling.
What does "Disney synergy" really mean? Is Seven Dwarfs Mine Train a dark ride or a roller coaster (and what the heck is a "story coaster")? Does Enchanted Tales with Belle make any sense? What does Under the Sea ~ Journey of the Little Mermaid have to do with "Glee"? Are we living in an Angelina Jolie era of theme parks?
By looking at each attraction in depth, The Thinking Fan's Guide unlocks the secret of what makes Magic Kingdom so enduringly spellbinding for millions of people every year. Whether it's their first visit or their five hundredth, readers will find new insight and a deeper appreciation for the Walt Disney World experience.
The book endeavors to answer questions that will have fans fascinated.
Find out why Space Mountain is a "mountain," what makes It's a Small World a "fantasy," what Tomorrowland really means by "Tomorrow," and why Stitch's Great Escape! grates on so many people's nerves.
How do the Animatronics (i.e. robots) in The Many Adventures of Winnie the Pooh contribute to Christopher Robin's imagination? What role does gender play in New Fantasyland? And how exactly do parades and fireworks make us feel like kids again?
Funny, clever, and honest, The Thinking Fan's Guide presents brand-new, substantive ideas in a way that is entertaining, easy, and quick to read.
The author's passion and affection for all things Disney comes through in engaging and reverent prose, even when the book takes the occasional attraction to task (the aforementioned Stitch show is an example). It's also the first book in print to devote substantive attention to the popular in-park role-playing game, Sorcerers of the Magic Kingdom.
Every attraction is paired with a TV or movie recommendation in a feature called "WATCH THIS." The movies aren't the ones readers will expect. Learn why Mary Poppins is the perfect companion piece for Splash Mountain, for example, or how "LOST" ties in with the Swiss Family Treehouse, and what connects non-Disney films like Chitty Chitty Bang Bang and Hello, Dolly! to Main Street, U.S.A.
Harry Potter fans will also be intrigued by J.K. Rowling's influence on today's Disney park.
A "Facts & Stats" sidebar for each attraction will give travelers the nuts-and-bolts information they need for effective trip planning, but The Thinking Fan's Guide's real value is its thought-provoking analysis and contagious passion for Walt Disney World. Relive each and every attraction through captivating assessments to realize why Disney is simply so easy to love.
Order the paperback now: Amazon.com | BarnesandNoble.com | BooksAMillion.com
Order the eBook now: Amazon Kindle | Barnes & Noble Nook | Apple iBooks (iPad, iPhone, etc.)
Read the reviews!
Learn more about the author.