The following is an excerpt from the brand-new book, The E-Ticket Life: Stories, Essays, and Lessons Learned from My Decidedly Disney Travels by Kyle Burbank, available now with a foreword from yours truly.
All week long, Kyle and the folks over at Laughing Place Press are releasing an exclusive sample from Kyle's book to various Disney-related sites around the web. This website is proud to be the first in that series. Get a glimpse of what Kyle has to offer below, and check his site to find out where E-Ticket Week is heading next! -Aaron
By Kyle Burbank
In the eternal debate for Disney Park supremacy, I've always worn my Left Coast bias on my sleeve. Further up said sleeve, we Disneylanders keep the ultimate trump card to use when under attack from the east: Disneyland was the only park that Walt ever walked in… unless you count the surveying trips to buy the land for the Florida Project. Of course, most don't accept this attempt at dismissing the argument, and so, as Elsa would say, the storm rages on.
What's silly is that the argument of whether Disneyland or Walt Disney World is truly better is more or less moot. I have a feeling that anyone who's had the pleasure of visiting the Tokyo Disneyland Resort might agree since, if the debate is over resorts and not parks, the Japanese are the clear victors — a consolation for the 1940s, I suppose?  But putting four parks up against two isn't fair to begin with and that's why I've maintained that the only proper way to compare the two domestic resorts is to put Disneyland directly against Magic Kingdom.
Any true assessment of a winner would have to be based on some sort of rubric that takes into consideration many different elements. For example, comparisons of all duplicate attractions would make a large part of the supporting data. However, even this raises a number of issues. The ride portion of Disneyland's Pirates of the Caribbean handily defeats that of Florida's, and yet Magic Kingdom's contains a superior queue experience. Which is more important?
Maybe instead of comparing the attractions that are the same, one should look at what's different. The fact that Magic Kingdom is still home to The Country Bear Jamboree, The Carousel of Progress, and the Peoplemover makes it the envy of nostalgic West Coasters. However, I think all of Southern California is perfectly content to never import Stitch's Great Escape. Similarly, maybe Walt Disney World fans wish they too could still ride Mr. Toad's Wild Ride like those in Anaheim can, but will thank heaven that there aren't any Disney characters present in their It's a Small World. For every Philharmagic that Florida boasts, California has an Indiana Jones Adventure to match it. Plus, the mountain range count is even now that The Seven Dwarfs Mine Train gives Magic Kingdom's Fantasyland the E-Ticket that Matterhorn brought to Disneyland in 1959.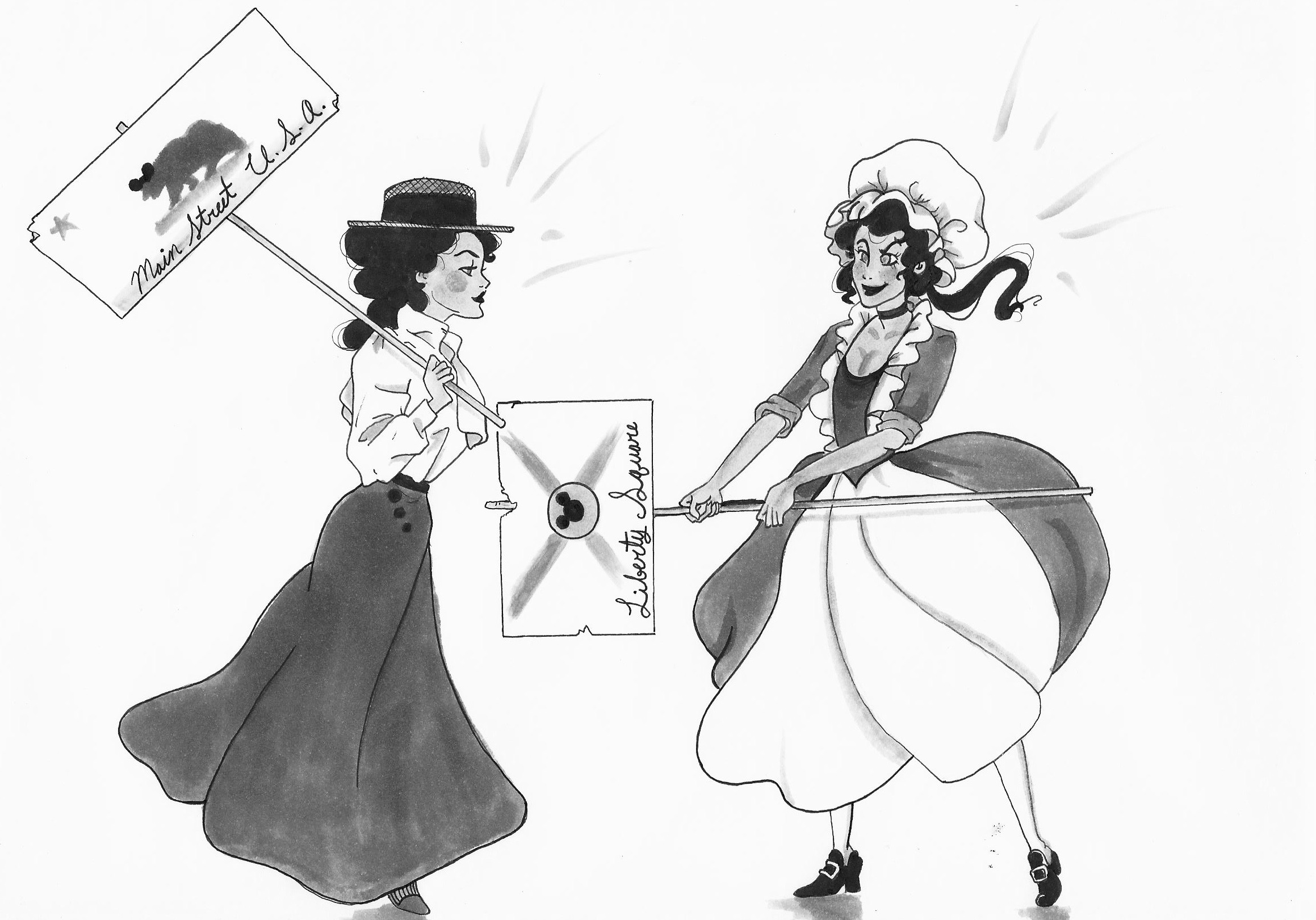 On that note, perhaps a land-by-land breakdown is best. Both resorts have seen the introduction of "New Fantasyland" — though nearly 30 years apart from each other — so it really comes down to whether you prefer Pinocchio and Alice in Wonderland dark rides or Little Mermaid ones. Then there's the consideration that Disneyland's ToonTown easily had Magic Kingdom's beat until the latter got re-themed and engulfed into Florida's Fantasyland.
Tomorrowland, which has always been a challenge to each park, is another interesting case. Though the East Coast version looks fantastic, one could argue that the western version contains a better line-up of attractions. On the opposite side of the hub, the two Adventurelands could not be more different, while neither Frontierland has much to write home about (presumably by telegraph) that makes it truly stand head and shoulders above its sibling.
So maybe the real deal-breaker comes down to New Orleans Square versus Liberty Square. Both are home to The Haunted Mansion and some of the best dining each respective park has to offer, but both could practically be considered sub-lands. So should the entire debate really hinge on such small areas?  That'd be like me mentioning Critter Country in this essay — it just doesn't matter.
With everything else ruled out, I guess it comes down to what is arguably the most important land in either park. The one you must see at least twice no matter what you do: Main Street USA. So do you fancy meeting President Lincoln or Mickey Mouse? Either way, you can grab a hot dog and some Starbucks, so I'm thinking this is a wash too.
By now I trust you've caught on to my point; there is no way to compare Disneyland and Magic Kingdom and declare a winner. Sure Magic Kingdom is grand and vast, but there's always something to be said about how quaint and detailed the original Magic Kingdom is out in Anaheim. Though the uninitiated might assume that all the Disney parks are one and the same, we as fans know that this couldn't be further from the truth. So, once and for all, let's agree to celebrate each park's uniqueness instead of trying to crown a champion. Besides, while Walt walked in only one of them, I believe he would have loved all of them.
Order Kyle Burbank's The E-Ticket Life, featuring a foreword by Aaron Wallace, today! Get it now!