By Aaron Wallace
I'll never forget the first time I heard "Morning Comes." Dozens of unknown bands had submitted a single song to a website in hopes of landing a big opening gig: the Hanson show (you might've forgotten about them, but sold-out clubs across the country definitely haven't). Scrolling through the list, I gave each song half my attention and a thirty second trial before clicking on to the next. After an array of middling, decidedly "local"-feeling recordings, I was ready to hop back over to my own iTunes library, but just before I closed out the poll, a single a cappella line rang out into the surrounding silence and completely isolated my focus: "I found a good woman, I found a job that pays."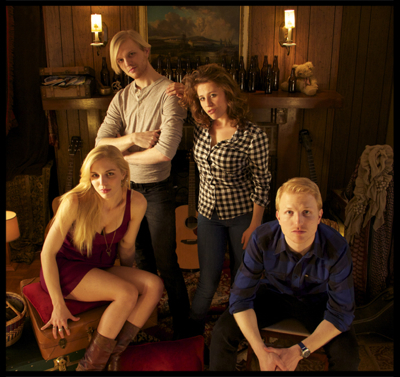 The song's commanding male vocal is quickly joined by an equally arresting leading lady on harmony. Then march in two more singers and their army of piano, percussion, and wildly vivid lyrics about the devil, jealous nights, and crashing waves. It's a song about soul and is sung with plenty of it, like a spiritual anthem. The lyrics, tortured and yearning and yet convinced of eventual deliverance, make an impact like the outpoured misery of a man knocked to his knees in fury and defiance. "Can I be blamed if I'm angry?" the song asks, "if I'm barely clinging to hope?" The performance is too honest and raw to disagree with, but after the rage and desperation, it offers hope: "Jealous is the night when the morning comes. But it always comes."
The song is by Delta Rae, a band you almost certainly haven't heard of, and neither had I. After voting for them to get the Hanson gig, I went straight to iTunes and bought their digital EP — five songs for five bucks. I guess the rest of the voting public was as impressed as I was. They won the contest handily, and so I reserved my spot at The Orange Peel in Asheville, NC  on July 30, 2010. When the band took the stage, I witnessed first-hand a whole crowd's reaction that mirrored my own the first time I had heard them.
No-name opening acts are typically drowned out by the chatter of concertgoers who casually saunter inside to buy merchandise and beer while they dutifully wait for someone they actually know to come onstage. That lasted all of ten seconds when Delta Rae tore into their opening number. Literally stomping on the ground, hammering the piano, and belting out enormous voices that hold their own with the big-timers, they had the audience watching, dancing, and cheering like this band were the main event. The only lull came with a well-intentioned misstep, when the group tried to engage the audience without the aid of microphones. It didn't work, but everything else in their brief opening bit (in fact, they were the opening-opening act, the prelude for better-known Rooney's set before Hanson came out hours later) did the trick. I went to meet the band and buy their EP on hard disc, but I had to wait in a long line of dazzled music lovers to get there.
Delta Rae consist of three blonde-haired siblings: Eric, Ian, and Brittany Hölljes, their appearance every bit as Nordic and Aryan as their surname sounds, and their brown-haired childhood friend, Elizabeth Hopkins. (If you do recognize Eric Hölljes, it's likely because he co-wrote Mike Posner's über-hit, "Cooler Than Me"). The band's two guys/two girls structure, with some of them from the same family and all of them singing in the lead, immediately calls to mind The Mammas and the Papas, a very nice thing to be reminded of, indeed.  Also echoing that legendary moms-and-pops ensemble are Delta Rae's dulcet vocal harmonies and ebullient folk-pop sound, which instantly stand out not only from the amelodic noise dominating today's pop radio, but also from the comparatively more grounded sound that defines the "indie" scene.
The music itself is dramatic, often sounding as though it might have been composed in a graveyard at midnight, with rattling chains in place of drums. The band have a hand-raising, boot-stomping gospel bend, their concerts at times feeling like a full-on revival… only it's not so much our souls they're reawakening as the distant spirit of real music. You remember real music, right? That thing with a melody, made by real people with real instruments and their own voices? That's what Delta Rae serve up in a full course, and with an aggressive flair. While their words often contemplate the divine, they aren't necessarily a religious group. That doesn't mean they don't provoke and inspire. In fact, some of their lighter works play like revelations — songs like "Young and Pretty" and "Holding on to Good" are the "Ave Maria" to Fantasia's "Night on Bald Mountain," moments of sweet serenity that bloom "when the morning comes."
In one of those cosmically strange twists, Delta Rae found me perhaps as randomly as I found them. After having mentioned them in a few of my various online platforms, I received an invitation to the band's next show at the famous Cat's Cradle club in Carrboro, NC (February 19, 2011), where they were once again joined by drummer Mike McKee and bassist Grant Emerson — and still opening for Rooney, as well as Eisley (another oft-overlooked band with a passionate fanbase). As expected, they brought the house down… or at least loosened its foundation enough to ensure the next two bands had better be on their A-games.
They slammed their hands together and lurched like the marching dead in a mighty gospel song they wrote themselves, "Bottom of the River." They sang a new song called "Memphis" and harmonized an emphatically ad-libbed "Amen" in the middle. They sang my favorite, "Morning Comes," and slayed it. The crowd loved it all, evidenced not only by the voluminous hoot-and-hollering, but all the whispered "wow!"s I heard from the strangers around me. I had just a moment to greet the very hospitable Hopkins when their set was done, and there were many more behind me, all eager to let her and the Hölljes clan know just how impressive they are.
"Morning Comes" came in at #5 on my list of 2010's best music singles. I use "single" loosely — you can buy it that way on iTunes, sure, but you'll be hard pressed to find a radio station playing the song. They should be, though. My immediate thought after hearing it the first time was, "now that's good music." Imagine if there was less Ke$ha and more Delta Rae in the Top 40. We should be so lucky.
Now is a particularly good time to wade into the band's waters because they're giving away a free music download every single week. The campaign, called gRAEt Mondays, is a creative strategy for a young band trying to make it in the YouTube age. Some of the songs are originals but many are stunning covers of popular songs like Fleetwood Mac's "The Chain", Kanye's "All of the Lights," and Alanis Morissette's "Your House." The lattermost prompted the "Ironic" songstress to tweet her praise for the band after she heard it. They've also taken on the stylistically comparable Adele, recording a cover of "Rolling in the Deep" well before it became one of the biggest radio hits of 2011.
My favorite gRAEt song so far is "If I Loved You," a breezy song about regrettably unrequited romance. It recalls all that was great about '90s piano pop and throws in plenty of guitar for good measure. Fiercely addictive, the soft rocker was nearly recorded by Kelly Clarkson but ended up in the hands of the band who wrote it, where its unbelievable harmonies and octave range have had my iPod in a sonic blaze for the past few weeks. The best part is that it's free! All Delta Rae ask in return is that you share it with others… so, please, do us all a favor and go download this band, share their stuff with your friends, and get the word out. The pop scene could use a dose of dynamic melody and killer hooks in four-part harmony, and if the band's fast rise and early success are any indication, you might be hearing a lot more about them in the years ahead.
• To find out more about Delta Rae and to download all of their free gRAEt Monday tracks, visit their website: DeltaRae.com
• To buy Delta Rae's EP for just $4.95 (at the time of publication), click here for iTunes or here for Amazon MP3. (The EP tracks are different than those offered for free as part of gRAEt Monday).
• Hear more about Delta Rae and the state of pop music in episodes #60 and #61 of my unofficial Disney discussion podcast, Zip-A-Dee-Doo-Pod (coming soon)!