Top 25 TV Shows of the Decade: 2000 - 2009
By Aaron Wallace
The 2000s haven't been great for television. Inexpensive reality shows ruled the roost, product placement took a toll on storylines, networks were too quick to cancel new shows before they had a chance to grow, and an extended writers' strike hurled a jarring hiccup into established series' run. A handful of new shows managed to grab my attention, though, and I list 25 of those below. The titles included here reflect both my own appreciation for these series and their popular reception as indicated by ratings and life span.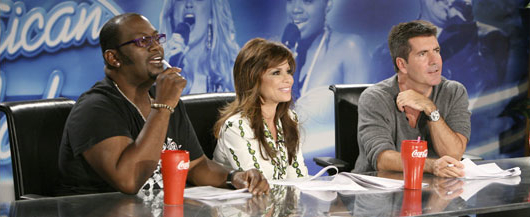 1. American Idol
2. Lost
3. Desperate Housewives
4. Survivor
5. 30 Rock
6. Family Guy
7. The Office
8. Malcolm in the Middle
9. Scrubs
10. Everybody Hates Chris
11. Everwood
12. Entourage
13. Reba
14. Glee
15. Boston Public
16. The Ellen DeGeneres Show
17. One Tree Hill
18. It's Always Sunny in Philadelphia
19. Andy Richter Controls the Universe
20. Three Wishes
21. Samantha Who?
22. Undeclared
23. Titus
24. The Apprentice
25. The O.C.
Home | About | Articles by Aaron
Other 2009 End-of-Year Articles: The Best 30 Music Singles of 2009 | The Best 50 Films of the Decade
Published December 31, 2009. All text and original content copyright Aaron Wallace and aaronwallaceonline.com, 2010, 2011.
"American Idol" screencap copyright FreemantleMedia Enterprises, 19 Television.