The list continues with the numbers 15 through 1 below. Click here to return to #30 – 16.
15. Amy Grant – "Be Still and Know"

A modern-day hymn crafted in the Ryan Adams Academy of Alternative Country. (Then again, the opening riff is reminiscent of the Backstreet Boys' "Shape of My Heart").
Grant takes one of the best-known Bible verses and asks "why?" — why does God want us to "be still?" It's the kind of seldom-posed inquiry that has shaped much of her best work, which is as thoughtful and meaningful as music gets. Her voice, meanwhile, is a brand of honey all its own, and it's deliciously syrupy here. Who knew a song about stillness could be so moving?
14. Adele – "Hello"

For the last four years, we've all sat around by the phone waiting for Adele to call again. Finally, she did, and her "Hello" was just what we needed to hear.
13. Iggy Azalea, feat. Jennifer Hudson – "Trouble"

Iggy gets top billing but "Trouble" plays out like a J-Hud solo, and she's going full-fledged Effie White.
Hudson puts Azalea in cuffs at the video's end, symbolic of her dominance in their duet. Those giant J-Hud vocals, big on amp and runs, marry well with the punchy piano, snap-speed claps, zippy horns, and parade-route drum line. It's a match made in Motown Heaven, with or without Iggy in tow.
12. The Weeknd – "Can't Feel My Face"

Dark and subversive, "Can't Feel My Face" is a song about addiction masquerading as a song about love, and you have to wonder how many radio stations and their audiences have picked up on that sleight of hand. The lyrics are uncomfortable — to what extent is The Weeknd embracing that monkey on his back? But a challenging lyric is a welcome one, and "Can't Feel My Face" strikes me as astoundingly honest. Anyway, the music is almost too catchy to care. It's like the song says — it's difficult, "but I love it."
11. A Great Big World, feat. Futuristic – "Hold Each Other"

A sweet and breezy love song with a keen eye for pop hooks and pronouns.
10. Adele – "Send My Love (To Your New Lover)"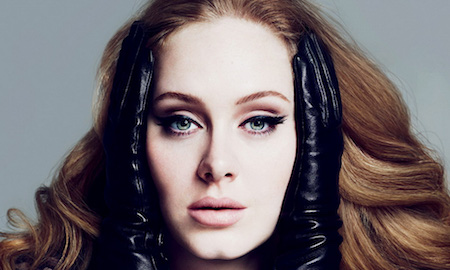 "Send My Love" is a hopscotch "f*** you." Easily the liveliest moment on her new album, this is 25's "Rolling in the Deep." Both lift a middle finger and then wag it to a beat. The lyrics are all about not being bitter, but she so obviously just-a-little-bit is, and that's what makes the hiccup in "your new luh-uh-lover" so delicious.
9. Delta Rae – "Scared"

Right off the bat, "Scared" seems a fitting title for a Delta Rae song. They've taken us on multiple trips to the graveyard in the past, after all. The band deliver in spades, with cooing harmonies, intriguing piano pecks, and rhythmic intrigue. The whole thing winds up to a haunting vocal windstorm, like a Greek chorus opining on whatever inner dilemma has Hölljes "swirling, softly, drifting like the cream in your coffee." Each repeat of "scared" hits like your heart drops in a horror film. Later, the finale calls the epic ending in Pink Floyd's "Us and Them" to mind.
8. Alessia Cara – "Here"

Alessia Cara is at a party and she is just. so. over it. It's like somebody invited Lorde to Animal House. Her observations probably mirror every party you've ever been to. That makes this the most relatable song of the year, and whether it's meant to be or not, it's hilarious too. "Some girl's talkin' 'bout her haters. She ain't got none." Kanye, this is what a badass sounds like.
7. Kelly Clarkson – "Piece by Piece"

If popular music has villains, Kelly Clarkson's dad is one we love to hate. None of us know him but neither does she, apparently, and that's his sin. "Because of You" is one of the most scorching and affecting ballads of the last twenty years — angry, raw, and complicated, but catchy.
Eleven years later, Clarkson's latest single opens with a stunning conjunction: "And all I remember is your back." With that first word, she positions "Piece by Piece" as a sort of sequel to "Because," the kind that exists because it has something to add: closure.
As singer-songwriter, Clarkson doesn't always wear the hat of vulnerability, but she's incredibly effective when she does. "Piece by Piece" is honest, moving, and cathartic. We hear two powerful voices — the one that belts those beautiful notes and, equally captivating, the writer's voice, which pulls us into her story and her soul. If the production skews a little too pop (particularly in the remixed version released to radio), the lyrics at least justify a mid-tempo approach — it's a story of both triumph and rage. Hurt and healing in compelling balance.
6. Brandon Flowers – "Can't Deny My Love"

If Queen had written a "Miami Vice" rock opera, "Can't Deny My Love" might have closed Act I. Like TNT, this song knows the drama. It has all the energy and enigma you'd expect from a guy whose other job is in a band called The Killers. The dynamics are a sound to behold — glimpses of gospel, flashbacks to Phil Collins' "In the Air Tonight," and what I'm pretty sure could be sound effects from some old SNES karate game. He's defiant: you're not gonna deny his love. Or his solo career.
5. Delta Rae – "My Whole Life Long"

The lawyer in me hears that title and thinks of a life estate — the type of property ownership that endures during a tenant's life and then, upon death, either reverts to the previous owner or transfers to someone else. The music lover in me hears the song and thinks of lifetime-ago pop modes, in which Fleetwood Mac and Carole King contributed so much to what a new generation now understands as "good music." Well if Nicks and King held warm, intimate pop-rock and blue-eyed soul in life estate, Delta Rae are surely the remaindermen.
Inspired by "Stand by Me," "My Whole Life Long" stands on its own with an inviting riff and a few percussive surprises — brush strokes, hand claps, and a triangle, each executed with an air of mystery. (As long as I'm drawing comparisons, the approach reminds me of Amy Grant's "Don't Run Away," which otherwise bears absolutely no similarity.) Enter Eric Hölljes and Liz Hopkins' killer duet, a  melody that manages to soar while staying tethered to an alluring Spotify-and-chill groove. "It's too hard, through a phone line, to hold you the way I want to," Hopkins sings with a yearning that makes this an anthem for long-distance love.
4. Nate Ruess – "Nothing Without Love"

"I am nothing without love" is almost too profound a declaration for a hooky pop song. Ruess might have just summed up the whole of human existence. Not bad for a solo debut.
The musical choices are fascinating. The beginning is composed like a drunken saloon sob. Then, about 47 seconds in, we erupt into a chorus of distortion. It's Inner Turmoil: The Musical. We continue in that vein while Ruess sings of the sea storm he's sailing through. Eventually, he finds his bearings, and we dive headfirst into some One Direction-ish "na na nas" — the bliss of epiphany. Love fills the void that was fun.'s focus.
3. Delta Rae – "All Good People"

"All Good People" was already in the works before the horrific shooting in Charleston last June, but it took flesh on the immediate heels of that tragedy. It was a risk. Here was a group of white people singing about still-in-the-headlines gun violence against a landmark black church — and in the black gospel style at that. The cynic's response writes itself (as might the NRA's), and the band was chiefly aware of that. They released it anyway. Good for them.
This is a bold, brave, and important song. It's a darker, pissed-off "We Are the World," unafraid to confront the spectator's responsibility in the face of tragedy. There are echoes of Niemöller's "First they came…," but the point isn't so much that "it could happen to us" as "it's the right thing to do." Powerful in spite of its simplicity, it calls the band's best-known tune ("Bottom of the River") to mind. And like "River," it's already making its rounds as a favorite for cover groups. Both those songs make evocative use of gospel, and by situating "Good People" in that heritage, the song becomes as much a requiem as a call to action.
I had the opportunity to spend some time with the band's Mike and Eric soon after the song's release (yes, I'm bragging) and heard firsthand the sincerity with which they approached such an obvious creative challenge. Brooding and heavyhearted as it is, the prevailing sentiment is one of optimism — there are good people in the world. They just need to come around. A few weeks later, in South Carolina at least, they did.
2. Adele – "When We Were Young"

My God, this reminds me of when Adele was 21.
1. Nate Ruess – "It Only Gets Much Worse"


If melodrama were a musical, Nate Ruess would be the toast of Broadway. He's a human pyrotechnic. It's almost shocking that an artist is so willing to perform in such epic extremes and still assert that it's good taste. Plenty of critics are made uncomfortable by his belting bombast, and that puts him in pretty good company (Mariah Carey, Queen, etc.). Fine by me. If you can't let loose in a song, where can you? As long as you have the chops, and he has them by the barrel.
I thought twice about awarding the top spot to something so utterly depressing, out of step as it is with my general worldview, but if life is made of anything, it's mixed emotions. Ruess isn't always a downer — he has another song called "It Gets Better." This one is mightily affecting, though, and uplifting in the way that some of our most profoundly sad songs are. (There's science behind that, by the way.)
Working itself up to operatic apoplexy, the song reaches a euphoric crest with "I survived the laws of gravity," delivering the single starkest musical moment of 2015.
NEW THIS YEAR: Listen to The Top 30 Songs of 2015 as an Apple Music playlist (Nos. 14, 10, and 2 are omitted).
Honorable Mentions
(Note: May contain explicit lyrics.)
Alabama Shakes – "Gimme All Your Love"
Andy Grammer – "Honey, I'm Good"
AWOLNATION – "Hollow Moon (Bad Wolf)"
Brandon Flowers – "Lonely Town"
Charles Perry – "Ev'rybody Wants to Be a Cat"
Diana Krall & Michael Bublé – "Alone Again (Naturally)"

Elle King – "Ex's & Oh's" 

Ed Sheeran – "Bloodstream"
firekid – "Magic Mountain"
Florence + The Machine – "Ship to Wreck"
Genevieve  – "Colors"
Glee Cast – "Daydream Believer"

Glee Cast – "I'm His Child" 

Glee Cast – "Suddenly Seymour" 

Haley Reinhart & Scott Bradlee's Postmodern Jukebox – "Creep"
JD McPherson – "Let the Good Times Roll"
Jennifer Hudson – "Too Beautiful"
Josh Groban – "Finishing the Hat"
Justin Bieber – "What Do You Mean"
Kacey Musgraves – "Biscuits"
Madonna – "Addicted"
Madonna – "Rebel Heart"
Matt and Kim – "Get It"
Modest Mouse – "Lampshades on Fire"
MUTEMATH – "Used To"
Nate Ruess – "Harsh Light"

Nathaniel Rateliff & The Night Sweats – "S.O.B." 

Omi – "Cheerleader"
One Direction – "History"
Pentatonix – "Can't Sleep Love"
Rihanna, Kanye West & Paul McCartney – "FourFiveSeconds"
Sam Tsui – "Photograph"
Sam Tsui, MAX, Kina Grannis, Diamond White, Macy Kate, Alex G & Kurt Schneider – "Where You Are"
Sheppard – "Be More Barrio"
Sheppard – "Let Me Down Easy"
The Struts – "Could Have Been Me"
Suburban Legends – "Thank You for Being a Friend"
Switchfoot – "Skin and Bones"
Tobias Jesso Jr. – "How Could You Babe"
Walk the Moon – "Different Colors"
See Also: The 30 Best Singles of 2014 | The 30 Best Singles of 2013 | The 30 Best Singles of 2012 | The 30 Best Singles of 2011 | The 30 Best Singles of 2010 | The 30 Best Singles of 2009 
Other Recent Articles: "The Golden Girls" Go to Disney World | The Best Way to Do Mickey's Not So Scary Halloween Party |  Inside Out Review | A Polynesian Parody
Podcasts: In Defense of George Lucas as a Disney Legend | The Walt Disney Pilgrimage | What's It Like to Live in Disney World?  | Disney Music Hall of Fame | Avatarland