"Disney Music" used to mean music made by Disney, but it might be time to redefine the term. Case in point: a new project by Andrew Tipton of the Disney Hipsters Podcast, an unofficial fan outlet with an artistic bent. His latest album is his first to target Disney fans directly, as well as the first to bear the "Hipsters" handle.
Let's Move to Disney World! is a collection of eight original songs celebrating oft-overlooked, surprisingly specific facets of the Disney Parks experience. It's whimsical but earnest, occasionally clever, and consistently fun.
The album is, as one might expect, undeniably hipster. It has a polished lo-fi quality about it, which allows each track to feel like an heirloom without sacrificing its contemporary appeal. The production is organic and artisan but not amateurish. I was reminded at times of Sufjan Stevens, Ben Kweller, The Beach Boys, Jars of Clay, and even Buddy Holly circa "Everyday," though none of those quite capture the album's curious, quirky character.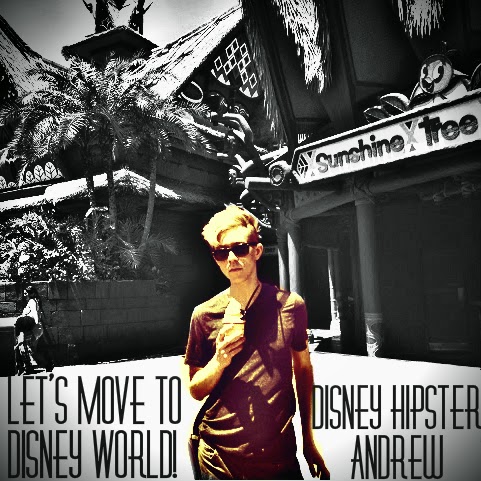 As fan art, Let's Move is unique in that it sets commentary to music and doesn't mind at all that its observations might be lost on those who aren't Annual Passholders. It's the phonograph equivalent of a podcast, sans the market saturation — a whole new forum for Disnified rumination.
And for the most part, despite their wistful arrangements, the lyrics are exceedingly positive. Even cheery.
If Pollyanna had put on skinny jeans, black-rimmed glasses, and a new appreciation for irony, she might have written this album herself. Instead, each song is penned, performed, and presumably produced by Tipton, whose love for both coasts' parks is clearly perceptible here. Whatever accusations of negativity may have been leveled (by some) against the Hipsters' podcasting elsewhere must yield to this album's evidence of passion for the place (or for three of Disney World's four parks anyway— Hollywood Studios is unfortunately neglected, more or less).
Tipton's right-on-the-line vocals are all their own, in tune but sometimes almost sounding like they're not going to be before pleasantly surprising the listener with appealing pitch. It's winsome, immensely likable, and off the cuff.
He seems to understand what makes singer-songwriterdom so affecting. With offbeat phrasing, imperfections, sporadic spoken word, and even a little twang, his delivery nearly has the homegrown accessibility of a Dolly Parton record. It works especially well on genuinely sweet lines like, "When I'm with you, life's pretty rad" and "Wishes, wishes, trust your heart… I always loved that part." The wording is similarly simple throughout, but that's part of its charm.
For Disney fans, this is the kind of record we might all have discovered as kids and suspected no one else knew about only to grow up and discover that a thousand other people on Twitter grew up loving it too. It's a cult classic in blossom and makes me wonder whether it might actually have that kind of legacy someday. Only time will tell.
Helping toward that end is the fact that Let's Move debuted at #1 on the Amazon children's music chart – an impressive feat made possible in part by Tipton's generous commitment of the album's proceeds to Give Kids the World, a wonderful Orlando-based charity I've worked with myself and a natural choice for any Disney fan looking to aid a worthy cause.
This isn't really a kids' album, of course, but it is family friendly. And its easy cadence and singsonginess allow it to sit comfortably alongside traditional kid records even if it isn't one of them.
All the songs share a common flavor, but at eight tracks, there's sufficient diversity in sound to allow for a delightful listening experience from beginning to end. I recently took the album with me into Magic Kingdom and had a wonderfully transportive experience with it.
The standout track is "Living with the Land… or Die!," an homage to Epcot's quintessential boat ride.  I could probably quibble with a line or two (I reckon Soarin' is worth the wait), but the song's too fun to care about that.
Let's Move to Disney World is lovely artwork and a natural addition to any Disney-lovin' iPod. It goes without saying that proper appreciation probably requires being conversant in the Disney Parks milieu, but for the millions of us who are, it's special, exciting, and one of a kind. Buy it on iTunes or Amazon and support a great cause along the way.
---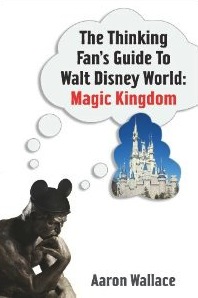 For more of Aaron's thoughts on Disney, be sure to check out his bestselling book, The Thinking Fan's Guide to Walt Disney World: Magic Kingdom — available in bookstores and on iBooks, Kindle, and Nook.
If you enjoyed this article, you might also enjoy….