By Aaron Wallace
"American Idol" pried jaws ajar across the nation last night with the surprise elimination of Pia Toscano, a pretty girl with an amazing voice — and a clear frontrunner in the competition. Her ouster calls to mind unforeseen upsets of the past: Jennifer Hudson, Chris Daughtry, and this season's own Casey Abrams. Those first two have done quite well for themselves since, while the judges used their one-time-only power of salvation to keep Casey in this year's running. They can't intervene this time, though, which means it's "see ya" for Pia.
The shocking results reveal a few things about this season of "Idol" — its voters, its contestants, and perhaps most importantly, its judges. Let's start with the American electorate, which is nearly as interested in voting for its entertainers as its leaders ("Idol" finale shows can nab around 100 million votes, while the 2008 Presidential election saw a record 130 million votes cast).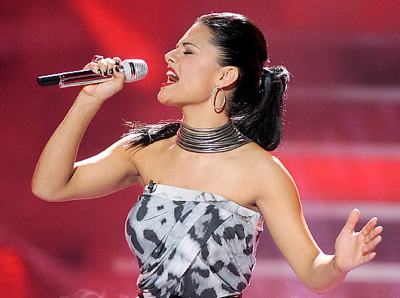 The Voters: A Reality (TV) Check
For far too many viewers, "American Idol" is as much a reality show as it is a music competition. Those camera confessionals are of utmost importance to a contestant's survival, and that's where Pia faltered. Whether she's naturally shy or made a deliberate effort to stay under the radar (a strategy she employed masterfully in the Hollywood rounds), Toscano kept her personality under lock and key. For every clip of Lauren Alaina taking a tumble down the mansion stairs… and for each  of Scotty's "good ole boy" shout-outs to his grandma and the Blue Crew baseball team back in Garner, NC… there was Pia, graciously promising to deliver an even better standing-O moment next week. And while Paul cavorts across the stage like Bellatrix Lestrange just zapped him with the Cruciatus Curse, and Casey collapses on the verge of yet another mysterious hospital stay, there stands Pia, perfectly poised and radiating with little more to show than a smile.
Victory on "American Idol" should be more about song than dance, but astounding talent just isn't enough to motivate our primetime couch potatoes to press their little fingers against a cellphone key. They've got to feel a personal investment in each "character," so to speak, or else they just aren't going to vote, no matter how good someone is (or how bad the others are). Most of the many millions watching this show undoubtedly agree that Pia's voice is phenomenal, but too many of them don't care about that, no matter what they might say to the contrary. If there's a take-away message from this week, it's that American culture should challenge itself to value artistry above theatrics… but somehow, I don't think that will change.
The Judges: Why Was Their Surprise a Surprise?
What can change is the judging. No sooner did the first syllable of Pia's name leave Ryan Seacrest's mouth than the theater started gasping and guffawing in a veritable fit of shock. Chief among the indignant were the judges, who bulged their eyes, threw up their hands, and angrily chastised America. This would not have happened if Seacrest had said Stefano's name instead. Note that when it was him and Pia in the Bottom Two, the room was still calm. That's because everyone assumed Stefano was leaving and nobody was too upset about that.
But if the judges really hold Pia in such higher regard than Stefano, last night was the first time we knew about it. Until then, it'd been nothing but nearly unfettered praise for the young wild card pick, who's found a #1 fan in Jennifer Lopez — the same judge who's managed to find something negative to say to Pia almost every week.
If the judges really feel that some contestants are that much stronger than others, they need to start saying that. For better or for worse, voters take their cues from the judges' comments, and while this year's judging panel might be the show's best in some other respects, they're largely failing to give the average, musically uncertain American any real, honest guidance.
Simon Cowell used to tell contestants whether they were in the lead or in danger of going home. He stopped just short of ranking them each week, but we always knew who he thought the front-runners were. I have no idea who Randy, Jennifer, and Steven think should win (or will win) because they don't give us the slightest indication any which way.
Now I'm not one of these "bring back Simon" folks — and honestly, with ratings and opinion polls skyrocketing in Season 10's favor, who in their heart of hearts really is? But the new panel could learn a few things from the oldest one, starting with this: speak up. (And in the case of Jennifer Lopez when Randy Jackson is trying to get in his critique: shut up). They should have told America that Pia is the wrong person to boot off before the voting, not after.
Following the results, Steven Tyler said, "America, a mistake is one thing, but lack of passion is unforgivable." I agree, but it goes for the judges too. Passion for the individual contestants is one thing, but the judges need to find their passion for the process. Each Wednesday night is more than just a concert; it's a contest to keep the most talented performers on board. That means making hard decisions and parting ways with folks who have talent — because at this point, they all do. But the judges are there to make those tough calls and it's time for them to step up their discernment.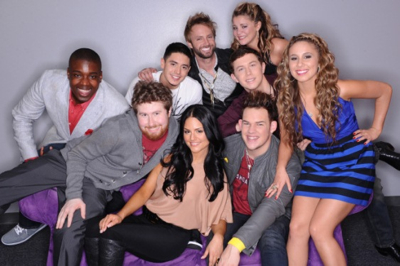 The Contestants: The Best We've Seen Yet
All that said, let's not be too hard on the judges. After all, this isn't an easy season to be ruthless. We're only at the Top Nine and already there's an amazing assortment of talent among the finalists. For all their excessive niceties, Tyler/Lopez/Jackson together make up the strongest team of talent scouts "American Idol" has ever known… and yes, that includes the original Cowell/Jackson/Abdul trio.  It helps that they're all accomplished, veteran musicians and that one of the three is arguably the all-time greatest star of American rock. They've done well for themselves as judges. Not a single season in "Idol" history has seen such a robust roster of musical talent and intuition.
Even Stefano, clearly the weakest of the remaining contestants, can sing like all get-out. Picking between this lot isn't easy, and the truth is that even as shocking as Pia's elimination was… it would have been just as shocking to see Casey, Haley, Lauren, or Scotty go. At some point — and soon — even the best of the best must be plucked away until only one remains.
The good news is that Pia isn't going anywhere. She probably would have gotten a record deal anyways, but now she almost certainly will. And with a voice that tempts us into comparisons with the Carey/Houston/Hudson/Franklin/Dion/Aguilera elite, she'll probably stick around. Was she my favorite of the Final Nine? I'm still not sure… while she has the vocal power to stand alongside those other big names, she doesn't have the unique tone or accent that gives each of those women a "you know it's them as soon as they sing one note" quality. But clearly, she left too soon. It must suck to be Stefano today, knowing the whole world wishes he'd gone home instead.
To Pia's biggest fans, I implore you: don't write off "American Idol" just because one vote didn't go your way. I've been there before. I was Team Hudson back in Season Four, but things turned out alright when the also-amazing Fantasia won out. There are simply too many great voices on this show to hitch all your fandom to one name. And if you're not back watching — and voting — again next week, who'll be around to stop another upset? Don't just watch and vote for revenge, of course… remember, the viewers' need for drama is one of the principal reasons Pia's gone now. Tune back in for the music. There's sure to be someone else in this group you can put your support behind.