Frequently Asked Questions
I'm New to ZADDP. Where Should I Start?
Not the beginning! Those early episodes are lovingly preserved for posterity, but the quality is pretty rough. Instead, try something a little newer. Here are some fan favorites: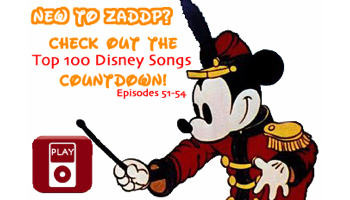 How Often Are Episodes Released?
Since the show's inception more than a decade ago, Zip-A-Dee-Doo-Pod has always operated on a sporadic release schedule. A lot of time, heart, and research goes into episode, and they arrive once "fully baked." Think of it like a Marvel movie: when you leave the theater, you might not know the sequel's release date, but you do know one's coming. Another Zip-A-Dee-Doo-Pod is always brewing.
How Can I Find Out As Soon As a New Episode Is Released?
The best way is to subscribe to the show on iTunes (it's free!). Your smartphone or computer will automatically download the next episode. It's also a very good idea to scroll down to the bottom of this page and sign up for the free email newsletter. Finally, keep an eye on Aaron's Twitter feed and the show's Facebook page for updates.
How Old Is the Show?
Aaron released the first ZADDP episode back in 2005. He was 19, in a dorm room, using a handheld wire mic, and venturing into the then-brand-new field of podcasting for the first time. iTunes didn't even carry podcasts in those days! Both the show and its technology have evolved considerably since then, but the audience remains and continues to grow. So does the love for Disney.
Is This More About Walt Disney World, Disneyland, or Disney movies?
It's equally all of the above (and then some!). "All Things Disney" isn't just a tagline; it really is the best descriptor for the show.