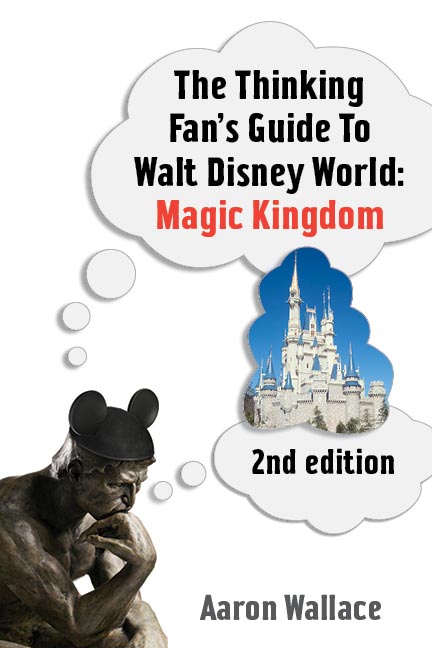 Autographed
$15.95
Publisher:

The Intrepid Traveler

Editor:

Kelly Monaghan

Edition:

2nd

Available in:

Paperback, eBook

ISBN:

978-1-937011-50-5

Published:

September 7, 2015
Signed Copy
Buy on Amazon
Slo-o-o-w Down and Savor the Magic!
INTRODUCING A DIFFERENT KIND OF DISNEY BOOK
FOR A DIFFERENT KIND OF THEME PARK EXPERIENCE
The Thinking Fan's Guide to Walt Disney World: Magic Kingdom is NOT the WDW Guidebook for you if . . .
You want to run around like a crazy person from dawn to midnight, trying to accomplish the superhuman task of seeing everything in Magic Kingdom
You need a description of every hot dog stand and turkey leg in the park
You want a mathematics Ph.D. to guide you through the maze of ticket options.
Do yourself a favor. Step beyond the rush-here, do-that frenzy of most guidebooks to truly appreciate the magic behind the attractions with The Thinking Fan's Guide to Walt Disney World: Magic Kingdom.
Aaron Wallace avoids the ephemera of prices and menus to explore the heart of the Disney experience. He provides a lighthearted but scholarly look at the history, lore, and literature that inform the designs and storylines of every ride and attraction in the Magic Kingdom.
Far from being mere "amusements," these attractions provide a complex, multi-layered narrative that can be experienced and appreciated just like a great novel, play, or film.
This is a guide for those ready to immerse themselves in the magnificent achievement that is Walt Disney World's Magic Kingdom. It will fascinate Disney buffs with the sometimes surprising insights it offers into old favorites while offering newcomers to the Disney magic a much richer experience.
For the first time, WDW is appreciated not as a mere theme park but what Disney's Imagineers always intended it to be — a work of art.
REVIEWS
The reviews are in! Read what people are saying about The Thinking Fan's Guide to Walt Disney World: Magic Kingdom.
SIGNED COPIES
Signed-by-the-author copies are now available exclusively at AaronWallaceOnline.com.
WHERE TO GET IT
The Thinking Fan's Guide to Walt Disney World: Magic Kingdom is available online and in bookstores worldwide!
This website (for autographed copies)
Your favorite book retailer
Prefer eBooks?
The eBook is temporarily unavailable, as we prepare to release a third edition of The Thinking Fan's Guide to Walt Disney World: Magic Kingdom. To be notified when it's available, simply scroll to the bottom of this page and sign up for the email newsletter. 
International readers can order from their country's online Amazon store and at many local bookstores.
What's New in the 2nd Edition?
Newly updated and expanded, the 2nd Edition of The Thinking Fan's Guide to Walt Disney World: Magic Kingdom looks at all the latest additions to Magic Kingdom. Among them are Seven Dwarfs Mine Train, Under the Sea ~ Journey of the Little Mermaid, Enchanted Tales with Belle, Disney Festival of Fantasy Parade, and Main Street Electrical Parade.
Along the way, Wallace takes an even closer look at many of the existing attractions in light of Disney's new storytelling style over the last few years. The result is an in-depth and intriguing book that even previous readers will find newly enthralling.
What does "Disney synergy" really mean?
Is Seven Dwarfs Mine Train a dark ride or a roller coaster (and what the heck is a "story coaster")?
Does Enchanted Tales with Belle make any sense?
Are we living in an Angelina Jolie era of theme parks?
By looking at each attraction in depth, The Thinking Fan's Guide unlocks the secret of what makes Magic Kingdom so enduringly spellbinding for millions of people every year. Whether it's their first visit or their five hundredth, readers will find new insight and a deeper appreciation for the Walt Disney World experience.
What Is The Thinking Fan's Guide to Walt Disney World: Magic Kingdom All About?
The book endeavors to answer questions that will have fans fascinated.
Find out why Space Mountain is a "mountain," what makes It's a Small World a "fantasy," what Tomorrowland really means by "Tomorrow," and why Stitch's Great Escape! grates on so many people's nerves.
How do the Animatronics (i.e. robots) in The Many Adventures of Winnie the Pooh contribute to Christopher Robin's imagination? What role does gender play in New Fantasyland? And how exactly do parades and fireworks make us feel like kids again?
Funny, clever, and honest, The Thinking Fan's Guide presents brand-new, substantive ideas in a way that is entertaining, easy, and quick to read.
The author's passion and affection for all things Disney comes through in engaging and reverent prose, even when the book takes the occasional attraction to task (the aforementioned Stitch show is an example). It's also the first book in print to devote substantive attention to the popular in-park role-playing game, Sorcerers of the Magic Kingdom.
Every attraction is paired with a TV or movie recommendation in a feature called "WATCH THIS." The movies aren't the ones readers will expect. Learn why Mary Poppins is the perfect companion piece for Splash Mountain, for example, or how "LOST" ties in with the Swiss Family Treehouse, and what connects non-Disney films like Chitty Chitty Bang Bang and Hello, Dolly! to Main Street, U.S.A.
Harry Potter fans will also be intrigued by J.K. Rowling's influence on today's Disney park.
A "Facts & Stats" sidebar for each attraction will give travelers the nuts-and-bolts information they need for effective trip planning, but The Thinking Fan's Guide's real value is its thought-provoking analysis and contagious passion for Walt Disney World. Relive each and every attraction through captivating assessments to realize why Disney is simply so easy to love.